Dr Andhare awarded with Jeevan Sadhna Award on 95th foundation day at Nagpur University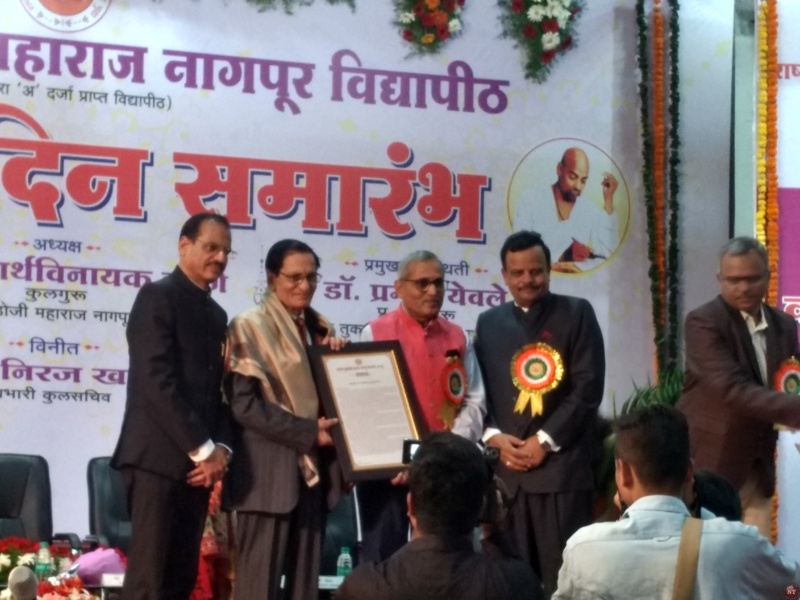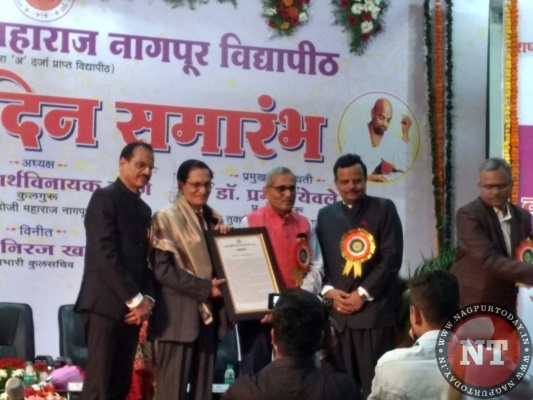 Nagpur: Rashtrasant Tukadoji Maharaj Nagpur University celebrated its 95th Foundation Day on August 4 at Gurunanak Bhavan, Amravati Road, at 10 am on August 4. Vice-Chancellor of Gujarat Technological University Dr R N Sheth will be the chief guest. RTMNU Vice Chancellor Dr Kane will preside over along with Pro-VC Dr Pramod Yeole along with Dr Bhalchandr Andhare were present on the dais.
On this occasion Dr Bhalchandr Andhare was awarded with Rashtrasant Tukadiji Maharaj Jeevan Sadhna Award for his excellence work in the field of History by the hands of Gujarat technological University VC Dr RN Sheth, Nagpur University VC SP Kane, Pro-VC Pramod Yeole.
Dr Andhare while addressing the program thanked Nagpur University for the award and said that "For me Nagpur University has always been like fatherly figure who always guided me in every steps and i am thankful to everyone who supported me".
Gujarat Technological University Vice Chancellor Dr R N Sheth said that "I am delighted to witness a great tradition of respecting and honoring the staff members and teachers for their work in the University. India is a country with glorious history but sadly many students are unaware of this history. Earlier students for around the world use to come to India to study, but today situation has changed now our student plan to go out to pursue higher studies because here in the academic institutes we kill the skills, ideas, innovation of the student due to which they are lacking a platform and opportunity to present their ideas to the world, our society expects a lot from a University but they do not have faith in us as a result they turn towards other companies. If we accept the new ideas, innovations of our students then India will soon become an educational Hub. We have to start supporting students to evolve and generate new ideas to the world".
Nagpur University Vice Chancellor SP Kane said "On this occasion we will start a new initiative for Environmental awareness 'One student one tree' and will provide certificates or incentive marks to them for this initiative we would also we replacing plastic products and will bring natural means of products to use in daily basis.
On 1924 on the first foundation day the then Chancellor Sir Frankslion said that in India the tendency to multiply University is operating but the real danger will be the pressure of completion which could result in lowering the standards of University and will be unfortunate if a degree to unable to posses any inherent value for recognition. We should work on this and with increase in technology our education system also should be updated and universities should provide new facilities to students like smart class, e-library, and digital classrooms as we are now accessible to this technology now. We should help the students by accepting their ideas and guide them".
Various other awards will also be awarded on the occasion. They include Ideal Education Society – Shree Ramdeobaba Sarvajanik Samiti, Ramdeo Tekdi, Gittikhadan, Nagpur. Ideal Officer, Pradeep Madhusudan Biniwale, Deputy registrar, V-C's office Ideal Non-teaching Employee-University Class-III Mahetab Khan Nawab Khan, Higher Division Clerk,Education Department, Class-IV – Raju Sheshrao Akhand, Accounts Section and Anil Prabhuji Khare (Sanitary Worker),
Best Student Award: Boys – Sarang Bharat Gupta, VMV Commerce, J.M.T Arts and J.J.P Science College, Nagpur; Utkarsha Mahesh Rathi, Shri Ramdeobaba College of Engineering and Management, Nagpur.
Best Student Award Girls – Prajakta Shripad Patil of Rajiv Gandhi College of Engineering and Research, Nagpur and Varsha Vaibhav of LAD and SRP College of Home Science and Home Science technology,Nagpur.