Delhi Public School, MIHAN, celebrated its 2nd Annual Concert on 14th December 2019 with gaiety and great fervor. A myriad of celebrations, replete with music, dazzling dances and hues of colours amidst great zest and vibrancy kept the audience awestruck. Mr. Naveen Kedia, Promoter, DPS Kamptee Road and MIHAN and Mr. Ajay Mansukhani, Pro Vice Chairman DPS, Nagpur, graced the occasion.
Other prominent dignitaries present on the occasion were –Mr. Chinmay Pandit, Deputy Commissioner of Police, Nagpur. The acclaimed guests were felicitated with the saplings emphasizing the 'Go Green' ideology of DPS. The programme commenced with traditional lighting of the lamp ceremony followed by the welcome address and the presentation of Annual Report by the Principal, Mrs. Gurpreet Bhambra. She apprised the audience of the various achievements of the school.
The Annual Concert comprised mellifluous music renditions, mind-blowing acts, and amazing dances. The Theatrical Expression – 'PANCHTATVA- The Five Elements' was an in house production right from the script writing to direction. The powerful acts and wonderful dance performances held the audience in awe and left them enlightened about our responsibilities towards Mother Earth.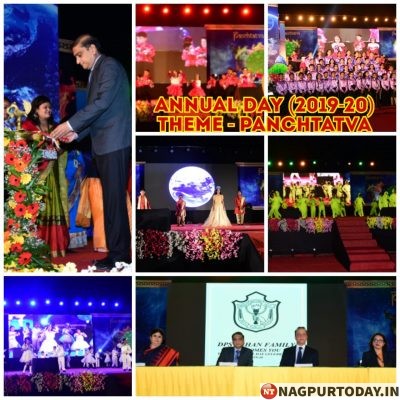 The eminent guests appreciated the efforts undertaken by the school in creating awareness in the students and society as a whole about the need to save nature. They were all praises for the relevant concept and the creativity showcased by the young DPSites. The unique presentation of the Liquid Drumming was one of the main attractions of the concert.
All the esteemed guests including the parents congratulated the school for such an edifying theme which requires a quick action on everybody's part. The brilliant performers of DPS, Mihan successfully conveyed the message that – If we want a happy life we must save our Mother Earth.