Dozing NMC comes to terms after Tekdi Ganesh Mandir reality bites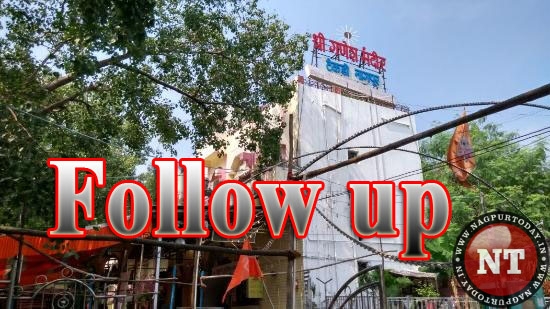 Nagpur: The expose report on the worn out Tekdi Ganesh Mandir has put the Nagpur Municipal Corporation authorities on alert mode and a flurry of activities aimed at controlling the damage were initiated. Engineers and Fire Brigade officials reached the temple and inspected the structure. On the other hand, the top NMC boss and the Mayor immediately called for sharing the structural audit report of temple with NMC. Taking a serious note of the situation, the authorities convened a meeting between Temple Committee and Defence officials and asked them to take a decision regarding structure of Tekdi Ganesh Mandir, soon. However, the moot question is: How such a worn out structure at the famous temple, visited by thousands daily, missed the eyes of concerned authorities? Were they dozing?
The land imbroglio:
Forget the demolition and reconstruction of the dilapidated structure of Tekdi Ganesh Mandir, the authorities of Defence, NMC and Temple Committee will have to first hammer out the land imbroglio. The temple is situated on Defence land but managed by the Committee. In fact, the Temple Committee, a few years ago, had secured permission from Defence authorities for reconstructuion of the mandir. However, some of the office-bearers lamented that the Defence authorities are now insisting on the Committee to seek permission afresh. With this new development, the Committee has applied for the necessary permission from Defence. But why the reconstruction was not started then and there only when the Defence authorities had first permitted the Committee earlier?
Read: Dilapidated Tekdi Ganesh Mandir tottering 
NMC set ups team to inspect all temples:
After being brought to their senses, the Municipal Commissioner has reportedly formed a team to carry out inspections of all the temples in city that have completed 30 years of age. Based on the report of the team, demolition or reconstruction would be ordered if any of the structures is found in poor state.
Temple Committee to be blamed:
That the things have come to such a pass is a grave issue considering the Tekdi Ganesh Temple is visited by thousands of devotees. And the Temple Committee must take the blame for the folly. The structural audit report was handed over to Temple Committee in July last year. Surprisingly, the Committee did not share the report with NMC for initiating further course of action. When confronted, an office-bearer of the Temple Committee said that after receiving the audit report and on the advice of the engineer, they initiated the damage control exercise at their level. Supporting towers were erected, rusted and worn out portions were demolished, he said adding the Temple Committee could do nothing more without the permission of Defence authorities.