NEONATAL TEE procedure done for first time in Central India: Dr Khanzode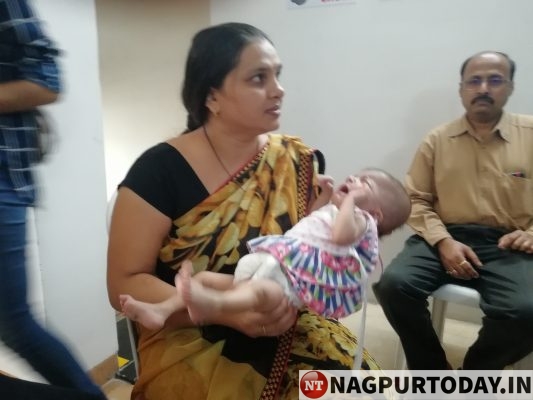 Nagpur: Central Hospital, Nagpur, performed a rare heart surgery on a five-month-old baby successfully, giving a new lease of life to the baby and bringing smiles on the faces of her parents.
Addressing a press conference at the hospital on Saturday, paediatric cardiac surgeon Dr Sandeep Khanzode said the patient – Astha Dubey, 5-month baby weighing 3.5 kg had a hole in the heart and hence was not gaining weight. But the hole was so big that it was thought that she might not tolerate the closure of the hole.
But thanks to the new modality of NEONATAL TEE introduced for the first time in Central India, that she was operated successfully and is doing well, Dr Khanzode informed.
Astha's parents Sandeep Dube, who works as driver with a private company in Nagpur and mother Aarti, a homemaker were all happy on the success of the surgery.
The successful surgery also marks the start of the dedicated centre for paediatric cardiac surgery, paediatric cardiology and paediatric cardiac intensive care, Dr Khanzode said. Along with Dr Khanzode, the team of doctors of Central Hospital comprising Dr Pramod Ambatkar, Dr. Vinay Kulkarni and Dr Shrikant Bobade, who performed the surgery, have now started a Baby Heart Centre at Central Hospital, Ramdaspeth.
To a question, Dr Khanzode said it is the first of its kind of paediatric centre in India, adding that the technologies and equipment at the hospital are unmatchable. Informing about the paediatric heart surgery, Dr Khanzode said its success rate is 98 per cent. Of the total cases, the hospital gets, 70 per cent are of hole in the heart with 30 per cent of more complex issues.
Various trusts are also associated with Baby Heart Centre to raise funds for poor patients for their heart surgery, Dr Khanzode informed.
Director, Central Hospital, Dr R G Chandak and the entire team that performed the surgery were present at the press conference.