Distribute compensation for crop damage immediately, instructs CM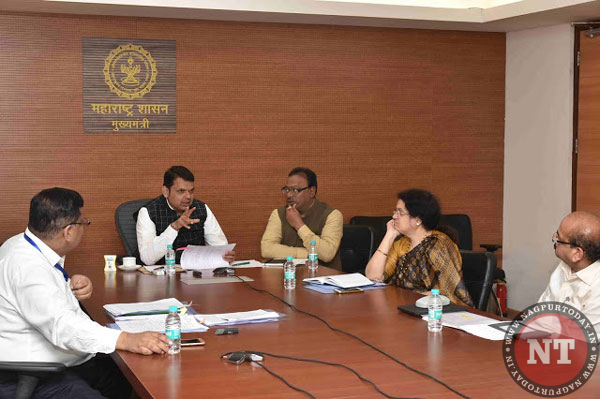 Mumbai- Chief Minister Devendra Fadnavis has given order to immediately distribute compensation for the recent crop damage due to hailstrom in Nagpur district. The chief minister in presence of Guardiam Minister Chandrashekhar Bawankukle in Manatralay, through a vedio conference reviewed the crop damage in Nagpur district and gave instructions to District Collector Sachin Kurve.
Chief Minister reviewed the crop damage due to hailstrom in Nagpur district area. The crops that have been damaged are oranges, paddy, wheat, chickpea (Gram), vegetables, Bananas, Citrus Limetta (Sweet Lime) etc. The CM gave instructions to immediately give compensation. Similarly, the cotton crop has been damaged due to Bollworm in Vidarbha and so was reviewed in the meeting. The financial aid was announced for this too. The talukas affected due to the technical reason should also be given compensation, he informed. He also instructed that care should be taken that no one gets aid less than Rs 4000.
Guardian Minister Chandrashekhar Bawankule said that while giving compensation a thought should be given to damage done to two seasons fruit crops by hailstrom. The 33 per cent area which have been damaged by bollworm should be given overall compensation, he instructed.
Bawankule thanked the Chief Minister for immediately taking the decision of crop compensation.
Present for the meeting were Guardian Minister Chandrashekhar Bawankule, Additional Chief Secretary, Aid and Rehabilitation Megha Gadgile, Agriculture Department's Chief Secretary Vijay Kumar, Animal Husbandry, Dairy Development and Fisheries Department Secretary Kiran Kurundkar and through Video conference District Collector Sachin Kurve, Joint Director Agriculture and others.