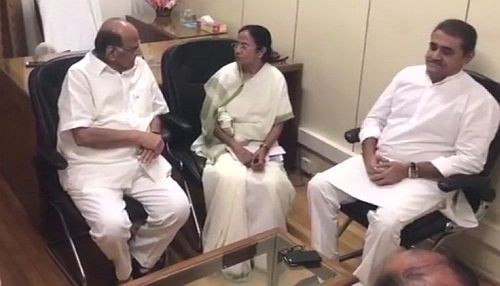 New Delhi: West Bengal Chief Minister Mamata Banerjee met NCP Chief Sharad Pawar and the party's senior leader Praful Patel in New Delhi. She attended Parliament today and met Shiv Sena MPs and DMK's Kanimozhi apart from TDP, TRS MPs in the House. She also spoke briefly to BJP MPs.
Banerjee arrived in New Delhi on Monday night and is scheduled to attend a dinner on Tuesday, hosted by the NCP chief today, though he has denied it.
The purpose of the meeting is ostensibly to chalk together a third front — an anti-BJP front — ahead of the crucial 2019 Lok Sabha elections.
The TMC supremo is also likely to call on UPA chairperson Sonia Gandhi and it remains to be seen if the visit serves as an ice-breaker between the two parties, especially after Banerjee skipped the dinner that was hosted by the UPA chief earlier this month.