Dhoom 3 : Prestigious Dhoom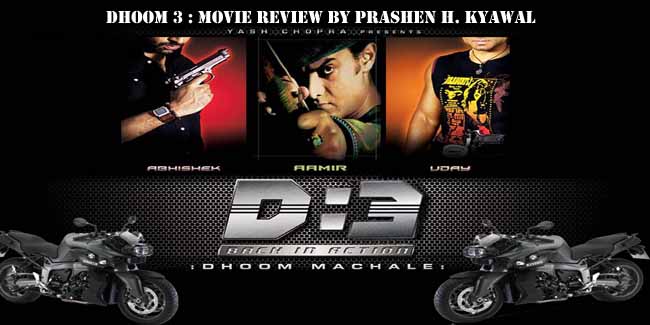 Cast :Aamir Khan (Sahir), Katrina Kaif (Aaliya), Abhishek Bachchan (ACP Jai Dixit) ,Uday Chopra (Ali Akbar Fateh Khan), Tabrett Bethell
Director: Vijay Krishna Acharya
Music composed by: Pritam Chakraborty
Producer: Aditya Chopra
Cinematography: Sudeep Chatterjee
Dhoom is most successful movie series in India and Dhoom 3 is most awaited film of 2013. Dhoom series has a great unique format where the villain is bigger than heroes. Where the villain is the main attraction of the movie. I am not sure if there is any other such mainstream commercial movie series with such format. Even if Abhishek Bachchan can claim any number of times that Dhoom series is chronicles of Jai and Ali and they are the heroes of the movie, people throng the theatres to watch the villain.
Dhoom 1 was sort of kinder to Abhishek Bachchan and Uday Chopra as they got equal footage too John Abraham's character which was more popular because it was author backed. With Dhoom 2 having Hrithik Roshan and Aishwarya Rai as thieves the game became tougher. Hrithik took the movie to an unprecedented level which seem hard to be break into. He completely shadowed Jai and Ali whose roles got smaller. AB Junior intact got a lot of flak at that time for looking lethargic and somewhat fat in front of Hrithik.
This time, with Amir Khan playing the thief, the film gets as bigger as it can get. Amir Khan, knowns as the perfectionist of Hindi Film Industry, is known for his sense of script. This time, though heavily "inspired" from hollywood flick "The Prestige", the screenplay by Vijay Krishna Acharya is good and hence Amir must have accepted the film. He is credited as Victor Acharya for this movie (is victor the alter ego of Vijay?).
Vijay is associated with Dhoom series from start. He is the writer behind all Dhoom movies. Dhoom 3 is a totally focused screenplay which is centred around the story of the thief. Hence, Jai and Ali gets much lesser roles. In fact, it also chucks away typical romantic track even after having lead actress like Katrina Kaif. Though it does make the movie taught, it also makes it dry as it lacks in comic and romantic entertainment. The script has good twists and turns. Vijay is also credited for dialogues which are apt.
Vijay Krishna Acharya gets credited with same name as Director. His much hyped Tashan fall flat at the box office but he did show some spark for style and action. With Dhoom 3, he gets already successful formula which has lot of scope for both. Being on home ground and supported with best technicians and star cast, he does his job remarkably. With the help of his editor Ritesh Soni, he keeps the pace of the movie fast and keeps audience hooked to the story. The way he delivers the twists in the movie is remarkable. He is extremely successful in presenting the story of the thief but fails in making Jai and Ali track work for it. In fact, he keeps very less chance for romance too (as it is the demand of the script too). If he could have some how managed to boast those areas too, it would have been a complete entertainer. Still a big round of applause to live unto the stupendous expectations from the movie.
Dhoom 3 is blessed with A list start cast and supporting actors. Most screen time is dedicated to Amir Khan (as Sahir) and he proves that he is the BEST. Though he lacks in physical presentation of the character (as compared to Hrithik or even John), he makes for it by his incredible acting talent. He is successful in impressing the audience again. Abhishek Bachchan (as Jai) is as his usual self. Uday Chopra (as Ali) does not have much scope due to very less screen time and no support from writer this time. We do not even remember him after the movie. Katrina Kaif is at her best form but is wasted again due to very less screen time. But she is best in whatever screen time she gets. I wish she had more meaty role. Jackie Shroff impresses in his small role. Tabrett Bethell who is Chicago police woman is a mis cast. She has ample screen time which is wasted.
Special mention for the child artist Siddharth Nigam who comes second or as close to Amir Khan. He must get all the awards for child actor for this year. What a heart warming performance by him. He is a kid to watch for.
Production by Aditya Chopra is of international standard and Cinematographer Sudeep Chatterjee takes full advantage of it and delivers stunning visuals. Action by Conrad Palmisano and Sham Kaushal is top notch. Music by Pritam Chakraborty and Julius Packiam lacks good songs which can last. Aditya Chopra lacks the ear for music which his father Yashiji had. He needs to hire Mahesh Bhat for this department. Choreography by Vaibhavi Merchant and Dien Perry is good. Katrina sizzles in her dances like liquid electricity (as described in the movie itself).
How can one talk about Dhoom without talking about bikes? I saved this best bit for last. Amir Khan gets a better bike than bat pod which is a convertible to many useful functions other than just being a bike. Do lookout for it. I would have loved Jai and Ali playing more with their bikes too however they just get to ride them (Don't know why Jai gets an entry with Auto)
In summary, Dhoom 3 delivers the promise and is a good family entertainment for this weekend. There can not be a better film to end the year. Go end it with DHOOM.

Recommendation : Watch it for Amir, his bike and for everything Dhoom stands for. Do not forget to suspend your belief before entering the cinema hall. And yes, this movie can be watched with whole family (which is hard to say about most movies coming now a days)
Also, do watch hollywood movie "The Prestige" on DVD after you watch this movie any time you can. It is a movie which must not be missed.