NMC_OCW annual ESR cleaning drive-2021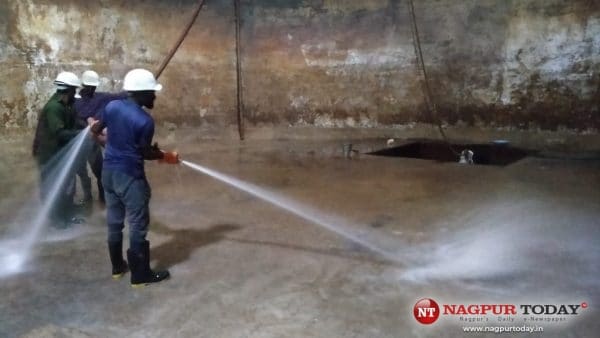 Nagpur, Nov 27: Every year NMC-OCW undertakes cleaning of storage Tanks i.e Elevated Service Reservoirs(ESR's), Master Balancing Reservoirs(MBR's) , Ground Service Reservoirs(GSR's) and Sump Tank.This is a major part of the endeavour to supply good quality potable water to the citizens of Nagpur.
NMC-OCW has planned to clean Dhantoli ESR on Mon,29th Nov and Seminary hills ESR on  Tues, 30th Nov of Dharampeth Zone .The water supply in the areas fed by these  ESR's will remain adversely affected on the day of tank cleaning. 
The affected areas of the respective Command area will be as follows: 
Dhantoli ESR: Mon,29th Nov :
Dhantoli Area upper portion of Balraj marg towards Dantoli ESR, Congress nagar, Rahate colony, Takiya slum, Central Jail,Irrigation Colony,Doctor Colony.

Seminary hills ESR: Tues, 30th Nov:
TV tower, CPWD colony, BSNL colony, MES Vayusena colony, MECL Office, Manavsewa nagar, malabar colony, bajrang society, Surengarh slum, Rajstani mohalla, Gourkhede colony, Krishna nahar, IBM Road, Gond mohalla, Shastri nahar, vishwas nagar, new Taj nagar  
During the period of Cleaning there will not be any alternate supply even through water Tankers.
Hence, the citizens living in these areas are requested to make arrangements for temporary storage well in advance. 
NMC-OCW have appealed citizens to co-operate and if they have any complaints regarding water supply or need information please do contact @ NMC-OCW's Toll Free Number 1800 266 9899 at any time.