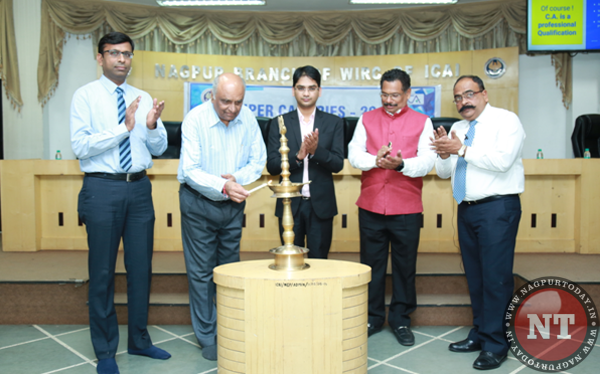 Nagpur: Nagpur Branch of WIRC of ICAI recently launched a unique skill development program 'Super CA' for honing the skills of Chartered Accountants with respect to various inter-personal skills of the members. This unique program would run for 9 months wherein the members would be guided on various practice development skills through renowned IIM Kolkata Faculty Sanjay Singh. Atul Pandey, President of Vidarbha Industries Association, while speaking as a Chief Guest in inaugural program of Super CA said that practical exposure to the professionals are pretty much required.
This is fast moving economy, updating is the need of the hour. One has to continuously update himself / herself on various fronts like communication, presentations, etc. He said that one has to starve for perfection & keep doing efforts for achieving it. He guided the participants over principles to be followed for success in life and shared his experience with participants.
He further added that Industry expects a lot from Chartered Accountants and the professional should guide their clients in best possible manner. The members should develop special skill sets to understand the needs and expectations of the clients and should check loopholes in the clients business for positive results. He appreciated Nagpur ICAI for conducting such beautiful course & complimented the participants for joining at appropriate time.
Earlier Chairman of Nagpur Branch CA. Umang Agrawal in his welcome address said that first time Nagpur Branch of WIRC of ICAI has designed this Novel Concept of 'Super CA'. He said that it is most versatile profession that gives all round capabilities to the person. Now a day's CAs are considered as the complete business solution provider. He thanked the pilot faculty of the course Sanjay Singh who has designed the course looking into the specific requirements of Chartered Accountants. He assured that the participants would have an enriching time while attending the course. He also assured all possible help from Nagpur Branch of ICAI for the increasing efficiency of CA Members.
CA. Swapnil Ghate, Past Chairman coordinated the Inaugural Session.
Prominently present on the occasion were, CA. Suren Duragkar, and 50 participants of the course.