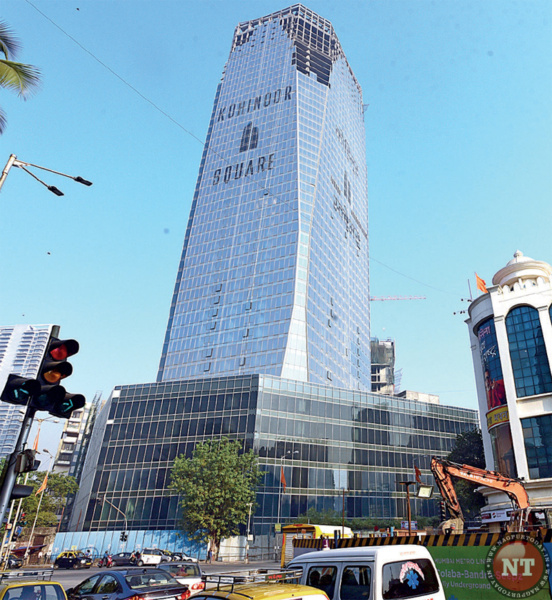 The ₹2000-crore project will now be helmed by Sandeep Shikre and Associates (SSA), a Prabhadevi-based architectural firm. SSA plans to restart construction on January 26.
Former chief minister Manohar Joshi's son Unmesh's Kohinoor Group has lost control of Dadar's Kohinoor Square — one of the most ambitious real estate projects in its kitty — to Sandeep Shikre and Associates (SSA), a Prabhadevi-based architectural firm.
Kohinoor Group lost the project, stalled for over two years now, following its inability to repay loans worth over Rs 900 crore to a consortium of banks. The banks, led by Edelweiss Asset Reconstruction Company Ltd, one of the creditors, had moved the National Company Law Tribunal (NCLT) against Kohinoor in June 2017.
S V Ramkumar, the Interim Resolution Professional (IRP) appointed by the NCLT, recommended SSA to take over the project and a two-member NCLT bench of V Nallasenapathy and B S V Prakash Kumar accepted the recommendation.
While both SSA and Kohinoor Group did not respond to calls and emails from Mumbai Mirror on Thursday and Friday, an Edelweiss source said that the project will restart on January 26 and will be completed in 15 to 18 months.
Another Edelweiss executive, who did not wish to be identified, said the project, whose market value is pegged at Rs 2,000 crore, will be funded through its distress assets fund. "As project sees progress on ground, queries for sale will be generated. This will also help us raise funds," he said.
The Kohinoor CTNL Infrastructure Pvt. Ltd, a subsidiary of education-to-hospitality Kohinoor Group, began building Kohinoor Square at Sena Bhavan Chowk in 2009.
The land on which the half-complete glass façade twin towers stand was acquired by a consortium comprising Maharashtra Navnirman Sena chief Raj Thackeray, his business partner Rajan Shirodkar and Kohinoor Group when it bought Kohinoor Mill No.3 for Rs 421 crore.
Thackeray exited the partnership in 2008 by selling his stake to Kohinoor Group.
While the initial plan was to build Asia's largest five-star hotel, it was revised in 2013 in favour of two towers of 52 and 35 storeys.
While one tower would house a five-star hotel and businesses, the other would be purely residential.
Most of the time, the construction remained on schedule.
But in 2012, construction slowed down due to litigation around the floor space index for car park. The switch from office building to mixed use also delayed the construction. The construction on residential wing started in late 2010.