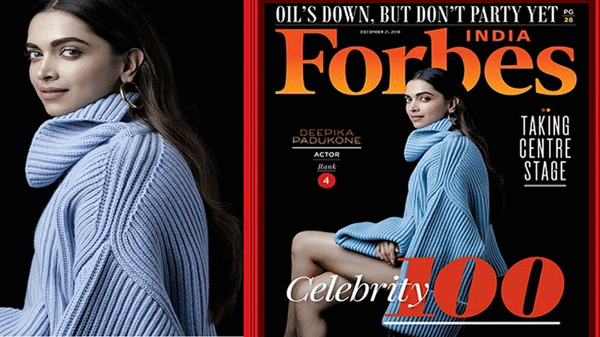 It has really been a good year for actress Deepika Padukone, as confirmed by her financial ratings on Forbes, and not only where her acting career is concerned but her personal life too. From her movies to brand endorsements, she has managed to earn a good amount of money, which has landed her in one of the top 5 spots of Forbes Richest Indian Celebrity 100 List. She is the first woman to do so since the inception of the List in 2012.
Deepika, who recently married actor Ranveer Singh, had scored big with her movie Padmaavat, which had broken many records at the box office. As per Forbes, for the period of their assessment, she has earned a whopping Rs 112.8 crore, making her not only the highest-earning woman celebrity, but landing her at the number 4 spot on the list too.
Actor Salman Khan was once again at the top of the list, making this his third year. Taking into account his film releases, television appearances and brand endorsements, his earnings were Rs 253.25 crore.
Salman was followed by Indian cricket captain Virat Kohli, who took the second spot with a total earnings of Rs 228.09 crore. Actor Akshay Kumar followed next with a total earnings of Rs 185 crore. The fifth position was taken by 'Captain Cool' Mahendra Singh Dhoni, who raked in Rs 101.77 crore.
Forbes noted that the period under its consideration was October 1, 2017 to September 30, 2018.
It was a lucrative year for the 100 celebrities on the list with cumulative earnings of Rs 3,140.25 crore, as last year the figure was 17 per cent lower.