Datke elected Mayor, Pokulwar the Dy Mayor; Cong, BSP candidates routed with big margin

BJP's Pravin Datke trounced Arun Dawre of Congress by 41 votes. BJP-supported Independent Corporator Munna Pokulwar defeated NCP's Raju Nagulwar by a margin of 40 votes.
Nagpur News.
Pravin Prabhakar Datke of Bharatiya Janata Party (BJP) was on Friday elected Mayor of Nagpur. He defeated Arun Dawre of Congress by a whopping 41 votes. BSP candidate Harshala Sanjay Jaiswal, who was also in the fray for the post, could garner only 9 votes. Similarly, BJP-supported Independent Corporator Munna (Ganesh) Ramanna Pokulwar was elected Deputy Mayor. He trounced NCP's Raju Nagulwar by a margin of 40 votes. BSP candidate Shabana Parvin Mohammed Jamal had to be content with only 12 votes. Elections to the posts of Mayor and Deputy Mayor were held on Friday, September 5, 2014.
District Collector Abhishek Krishna presided over the elections for both posts as Designated Election Officer. The crucial elections were held at Mahal-based Nagar Bhavan of Nagpur Municipal Corporation. The NMC's electoral roll comprised of 145 voters (Corporators) for Mayor and Deputy Mayor's election. Three candidates namely Pravin Datke of BJP, Arun Dawre of Congress and Harshala Sanjay Jaiswal of BSP were in the fray for the post of Mayor. Out of 145 Corporators, 86 Corporators belonged to BJP and party-supported Independents, 35 of Congress, 12 of BSP and 6 each of Shiv Sena and NCP respectively. After the voting, the Election Officer Abhishek Krishna announced that out of 145 Corporators only 128 exercised their franchise. Pravin Datke of BJP received 80 votes while Arun Dawre of Congress and Harshala Jaiswal of BSP garnered 39 and 9 votes respectively. Subsequently, Pravin Datke was declared winner. The 17 Corporators who did not vote include Suresh Jagyasi, Kiran Patankar, Prashant Chopda, Alka Dalal, Prashant Usre, Jagdish Gwalbanshi, Meena Dilip Chaudhary, Abha Bijju Pande, Duneshwar Pethe, Anil Dhawde, Seema Raut, Sumitra Jadhav, Sharad Bante, Saroj Bahadure, Vasudeo Dhoke, Lalita Patil and Manisha Ghodeswar.
On the other hand, in the election for the post of Deputy Mayor, Sujata Kombade of Congress withdrew her candidature in favour of NCP's candidate. The withdrawal left three candidates in the field namely BJP-supported Munna Pokulwar, NCP's Raju Nagulwar and BSP's Shabana Parvin Mohammed Jamal. After the voting, the Election Officer Abhishek Krishna announced that out of 145 Corporators, 140 cast their votes. Subsequently, Munna Pokulwar of Nagpur Vikas Aghadi bagged 84 votes while Raju Nagulwar of NCP and Shabana Parvin Mohammed Jamal of BSP had to be content with 40 and 12 votes respectively. Munna Pokulwar was eventually declared winner for the post of Deputy Mayor.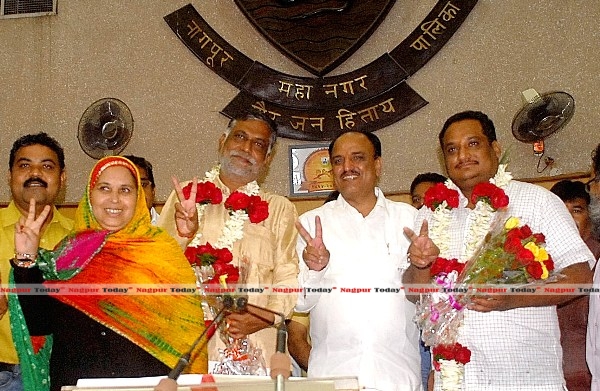 Datke promises overall development of Nagpur:
Pravin Datke, immediately after being elected Mayor, asserted that he will try to give full justice to the responsibility bestowed upon him by his party. "I will strive for boosting development of Nagpur with full vigor and that too without any stain on NMC. I am grateful to BJP Parliamentary Board for showing faith in my capabilities and giving the responsibility of Mayor to a small worker like me. Now, my priority will to carry out the duty in true sense which I will do with aplomb. It will be my endeavour to seek help of my party, the Opposition and NMC Administration for continuing implementation of citizen-oriented schemes successfully and determinedly," asserted the newly elected Mayor.
Datke further said that in the next Assembly elections his party (BJP) will be immensely successful by bagging all the seats in Nagpur. "BJP is ruling at the Centre and it will rule in State also. After coming to power in State, overall development of Nagpur will be achieved with the help of Central Government. The policies of present State Government are proving detrimental as NMC is facing financial crunch, Soon the Election Code of Conduct will come into force and as soon as it ends, a strategy would be drawn for development of city and also resolving burning questions being faced by the citizens," said Datke while talking to media.
The City BJP President Krishna Khopde, who was present at the press meet, said that a decision regarding new Leader of Ruling Party in NMC will be taken soon. Several senior leaders are out of station and their absence is causing delay in arriving at the decision, clarified Khopde. Pravin Datke, prior to his election to the post of Mayor, was Leader of Ruling Party.