Dahi Handi: Can 5-year-old climb human pyramid in adventurous sport, asks Bombay High Court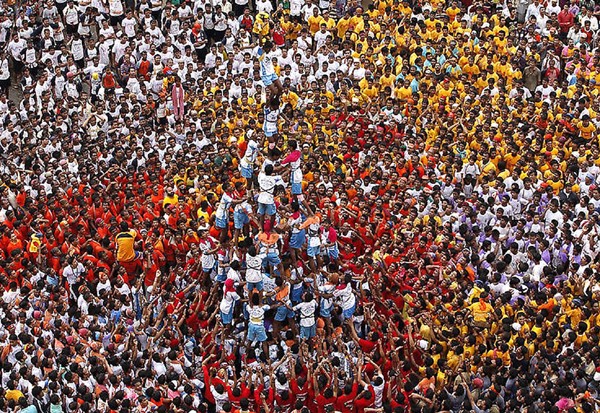 Mumbai: Hearing a petition seeking guidelines for safe celebration of Dahi Handi in Maharashtra, the Bombay High Court today asked the state government if a five-year-old child could be allowed to climb a human pyramid as part of an adventurous sport.
The high court's notice came the wake of reports about people getting injured while climbing the formation of human pyramids during Dahi Handi.
The Bombay High Court as well as the Supreme Court had ruled in 2014 that human pyramids should not be higher than 20 feet. The apex court also said that minors should not be allowed to climb during Dahi Handi festivities.
Following the Supreme Court ruling, the Maharashtra government in August next year declared Dahi Handi an adventurous sport.
High Court Raps Government
Examining the relevant documents, the Bombay High Court division bench of Justices R M Savant and Sadhna Jadhav asked the government counsel: "What is an adventurous sport and what do u mean by that term? Can a 5-year-old child climb up a 20 feet high pyramid according to this rule?"
The high court has asked the government if there is any clarification on this issue in the form of another government regulation passed after 2015.
Justice Jadhav further asked if there are there any norms being allowed to flout in garb of this government regulation which did not seem to have any clarity.
Issuing notice to the Maharashtra government, the Bombay High Court adjourned the matter till August 4 by when the government would be explaining its stand on the issue. Dahi Handi festivity will be organised this year on August 15.