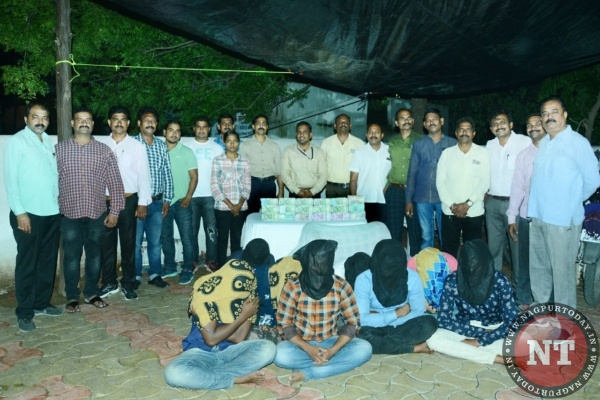 Nagpur: In a major breakthrough, sleuths of Crime Branch Unit 3 cracked the Rs 70 lakh robbery by nabbing a gang of five goons after painstaking investigations. Five other members of the gang are being hunted by the cops. Out of Rs 70 lakh looted from a coal trader and his cashier, cops have recovered Rs 52.84 lakh and also seized three vehicles worth Rs 3.70 lakh.
According to police, Sachin Agrawal, Chief Executive Officer (CEO) of Deekay & Company having its office at Shivam Tower, Wardhaman Nagar, and his cashier Rajesh Bhishikar were coming out of the office around 8.30 pm on Friday (June 30). Agrawal'scompany is engaged in trading and supplying a wide range of industrial coal. On that day, instead of keeping the cash at the office, Agrawal decided to carry it home. He kept the cash in a canvas bag and came out of the building with Bhishikar. When Agrawal was about to board his car, three robbers approached him, one of them threw chilli powder in his eyes and at the threat of a pistol, snatched the bag containing cash. When Agrawal resisted, the third robber attacked Bhishikar with a knife. Before the duo could raise an alarm, robbers fled with booty under the cover of darkness. An offence in this connection was registered with Lakadganj police and probe was launched.
The Crime Branch Unit 3 started investigation. During the probe, cops received secret inputs that one of the accused Praful Gajajan Matlane (27), resident of Pawangaon Road, Kalamna, was working in a transport company and frequently visited office of Agrawal. Praful knew cash around Rs 60-70 lakh was being collected by Agrawal's company daily. The accused Praful Matlane and one of the other accused Mangesh Tarachand Bonde (27), resident of Kandri, Kanhan, did recce on the movement of Agrawal for 15 days and planned the robbery. On June 29 night, when Agrawal was carrying the cash, the accused, Praful Matlane, Mangesh Bonde and their eight other accomplices committed the robbery.
The Crime Branch sleuths, after painstaking investigations, nabbed the accused Praful Matlane, Mangesh Bonde, and three others namely Ravi Manoj Mahato (20) of Ashok Square near Kashibai Temple, Kotwali, Mangesh Madan Paserkar (26), staying behind MLA Hostel slums, and Amit alias Dadu Vijay Bankar (21), resident of New Panther Nagar, Wathoda Road, Nandanvan. The five other accused being hunted are Sachin Bhaurao Deshbhratar (26), Mayur Babarao Gaurkar (19), Shubham Avinash Gajbhiye (20), all residents of New Panther Nagar, Wathoda Road, Nandanvan, Sheikh Shahrukh Sayyed Akram (20) and Sayyed Ashraf Sayyed Akram (around 25 years), both residents of Hasanbagh.
Cops have recovered Rs 52.84 lakh out of the looted Rs 70 lakh. Cops have also seized three vehicles worth Rs 3.70 lakh from the arrested accused. The other accused are being searched by the cops.
The task was achieved by PI Jagvendra Singh Rajput, APIs Dnyaneshwar Bhedodkar, Yogesh Chaudhary, Woman PSI Mangala Mokashe, constables Shatrughna Kadu, Rafiq Khan, Shailesh Thawre, Suresh Hinganekar, Shailesh Patil, Anil Dubey, Vitthal Nasre, NPCs Arun Dharme, Shyam Kadu, Atul Davande, Dayashankar Bisandre, Rakesh Yadav, sepoys Harish Bawne, Suraj Bhongade, Milind Narsanne, drivers Raju Potdar, Firoz Sheikh, Sharif Sheikh, Satyendra Yadav, and Amol Padghan under the guidance of Commissioner of Police Dr K Venkatesham, Joint CP Shivaji Bodkhe, DCP (Detection) Sambhaji Kadam, DCP Zone 3 Rahul Maknikar and ACP Sanjiv Kamble.