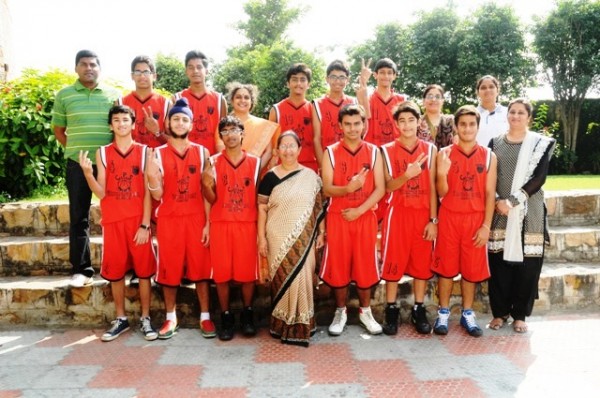 Nagpur News: The DSO U-17State Basketball Tournament held from 18th Nov to 21st Nov 2012 at Karanjaled was a happy hunting ground for the boys of Centre Point School, Wardhaman Nagar.
In the 1st quarter final match of Nagpur vs Amravati, CPS WN boys, top scorer, Mohit Humne (29 points) and Sudeep Ghoshal (18 points), helped Nagpur to win by 20 points, (68 – 48). In the semi final match against Nashik, top scorer, Mohit Humne (22 pts) and Sahil Bhure (17 pts) took their team to victory with a final score of 60 – 53.
Continuing their winning streak the Nagpur team defeated Pune in an exciting Final match to win by 1 point (38 – 37). The top scorer was Mohit Humne (17 pts) of CPS, WN along with Vishal Gurnani (12 pts)
The spectacular performance by the U-17 boys team of CPS, WN helped them to be the first among the CPS group of schools to qualify for the state and then for the National team.
The team members are Sahil Bhure (Captain), Sudeep Ghoshal, Navdeepsingh Saini, Mohit Humne, Vishal Gurunani, Sarthak Gugnani, Rohan Shrivastav, Atharv Vaidya, Meet Rukhiyana, Shivam Madan, Aditya Sheth and Tushar Rathi.
The team along with their coach, Mr.Manoj Rakshak was congratulated by the The Directors, the Executive Director, Mrs. Mukta Chatterjee, The Principal, Mrs. Sumathi Venugopalan and the Vice Principals, Ms.Deepa Chakraborty & Mrs. Zahida Malik, for their excellent performance.