CPS students display their brilliant side at Electron Microscopy Workshop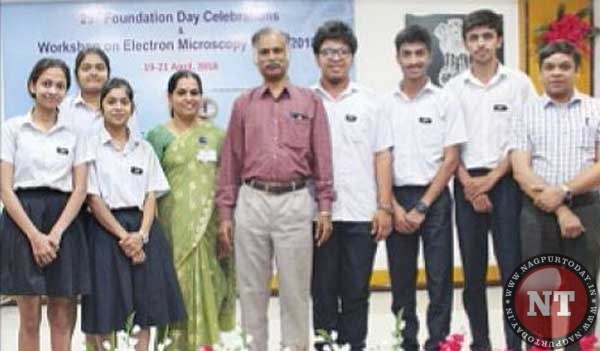 A workshop on Electron Microscopy was organised recently by Jawaharlal Nehru Aluminum Research Development and Design Centre (JNARDDC) in association with MME,VNIT, Nagpur and Electron Microscope Society of India supported by Board of Research in Nuclear Science. From Centre Point School (CPS), Katol Road Amruth Menday, Agnidev Bhattacharya, Kaiz Dhamani, Pali Pranjal, Sonali Kalekar andVanshika Agrawal of Class 12 Science Stream, attended the workshop along with Manimegalai Sivanand, the Physics teacher.
The workshop was conducted by two eminent scientists, Dr T R Ramachandran (Founder Director JNARDDC, Nagpur, Retd. Professor IIT Kanpur) and Dr P Parameswaran, (Head XR DSES, Physical Metallurgy Division, IGCAR. Dr Ramachandran introduced scanning Electron Microscopy and Dr Parameswaran explained the application of SEM and TEM. He elaborated on the 'specimen preparation methods' and led the delegates on a lab visit to observe the working of the electron microscope. A quiz on Electron Microscopy was also conducted by Dr Parameswaran.
All the six students of CPS, Katol Road, qualified for the final round after the preliminary written test. After the tough but interesting 6 rounds, Vanshika Agrawal and Sonali Kalekar won the 1st position. They got a cash prize of Rs 2,250 and Agnidev Bhattacharya, Kaiz Dhamani stood 3rd and won a cash prize of Rs 750. All the participants received certificates. The participants were commended by Shilpee Ganguly, Principal, CPS, Katol Road