Cops foil farmers' plan to stage self-immolation at RSS HQ; over 350 detained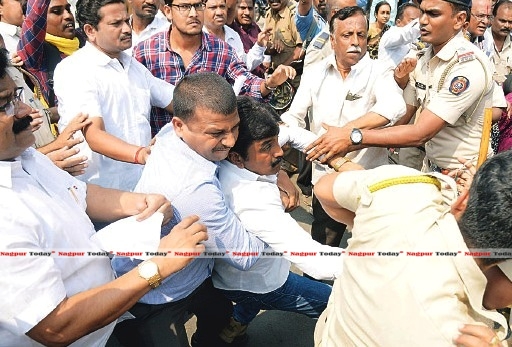 Nagpur: Police on Sunday foiled the cotton farmers' plan to stage self-immolation in front of RSS Headquarters in Mahal by detaining over 350 marching farmers midway. Cotton growers of Wardha district held demonstrations under the leadership of In-charge of All India Congress Farmers' Cell
Avinash Kakde at Chitar Oli Square on Sunday. They had threatened to commit self-immolation at the Rashtriya Swayamsevak Sangh (RSS) Headquarters in Mahal to protest alleged non-payment of Rs 8 crore dues by the cotton trader Sunil Talatule, a close aide of RSS functionaries and top BJP leaders. A large number of farmers had reached Nagpur for the protest demonstration.
The farmers took out a morcha from Chitar Oli Square around 12 noon but were stopped midway and detained and taken to the Police Headquarters in Police Line Takli. The farmers were led by Avinash Kakde, Manoj Shinde, Ramu Pathak, Mangesh Dhone, Pramod Tadas and others. The marchers were holding large photographs of RSS chief Mohan Bhagwat as well as Talatule and were shouting slogans "Pasine ka paisa milna chhahiye" (Money of sweat must be received).
Police get offensive:
The situation turned tense when police blocked the road to RSS HQ forcing the marchers to squat at the nearby statue of Mahatma Gandhi. They started shouting slogans against high-handed action by police. Before the situation could get deteriorate, police started detaining the marchers and pushing them into waiting police vehicles. Meanwhile, the City Congress President Vikas Thakre, Abhijit Wanjari and other leaders to reached the spot to extend support to protesting farmers.
Tight security at RSS HQ:
The Chief Minister Devendra Fadnavis too was in Nagpur on Sunday to attend various programmes. In this situation, the self-immolation bids would have sent wrong signals as well as created embarrassing moments for the State Government. Keeping in mind this aspect, police had thrown a tight security in and around RSS Headquarters to foil the farmers' plan.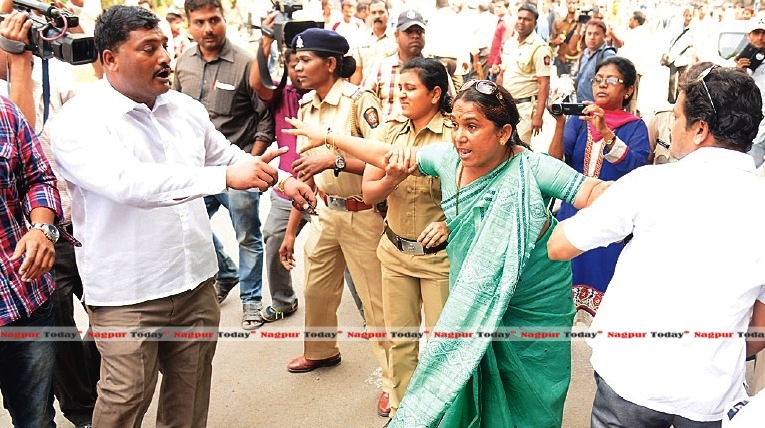 The issue:
Elaborating the reason for the 'fiery' agitation, Kakde alleged that the unscrupulous cotton traders are duping the farmers and the traders are being protected by the Government and the RSS. "During the 2014-15 period, hundreds of farmers from my area sold 20000 quintals of cotton to a trader named Sunil Talatule who is also the Director of Shrikrishna Ginning and Pressing. However, this trader has not paid the money of farmers till to date. Talatule owes around Rs 8 crore to 450 farmers," stated Kakde. Ironically, the cotton farmers used to sell their produce to Agriculture Produce Marketing Committee (APMC). But on the insistence of one of the members of the APMC, the farmers sold their cotton to Sunil Talatule. However, Talatule started defaulting on the payments of the farmers. An offence has been registered against Talatule with Selu Police Station but for reasons better known to police, he has not been arrested so far, lamented Kakde. The leader of farmers further alleged that Talatule 'boasts' of his connections with RSS chief and top leaders of Government and hence refusing to pay the farmers their money. "We have met the Chief Minister, RSS chief and top BJP leader and submitted a memorandum in this regard. But no action is being initiated against the trader as yet. Therefore, the farmers have decided to take out a morcha from Chitar Oli at 12 noon on Sunday and stage a 'fiery' agitation in front of RSS Headquarters," declared Kakde.