Constable's bike mysteriously catches fire at Sadar police station; cops claimed ignorance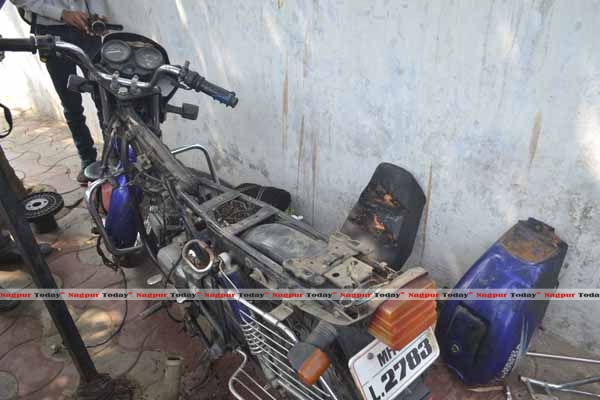 Nagpur News.
A motorcycle parked in Sadar police station premises mysteriously caught fire charring down its major spare parts in the early hours of Tuesday. The cause of fire was yet to be ascertained however sources informed that short circuit into bike's wiring could have caused the flames. Interestingly, the cops at Sadar police station initially tried to hide the information and denied any such incident in their premises. However, Nagpur Today correspondent had clicked the picture of bike in flames that revealed the truth. When quizzed about the picture, the policemen later admitted the accident.
It turned out that police constable Shoeb Ahmed, who is attached to Sadar police station and serving as PI's driver, owned this bike (MH-?? / L-2768 ).
Sources said as the bike caught fire the policemen tried to douse the flames by pouring water and throwing sand on the vehicle but it did not help much as the bike was badly damaged by then. There were many two-wheelers parked in the premises and it could have been proved fatal, had the cops not acted in nick of time.
Surprisingly, there were enough policemen at the time of incident but none could notice the activity until the flames got strong.
Recalling a similar incident, a source close to Sadar police station informed that couple of years back the then zonal DCP made a surprise visit to the police station and silently took away two walkie-talkie sets to gauge the policemen's alertness. But to his dismay, none of the staff noticed this. Later, the concerned DCP presented those walkie talkie sets to the Commissioner of Police. The act had then raised alarm on the cops' presence of mind at their own place of work.
The latest display of ignorance towards the incident relived that incident once again.
However, what raises suspicion is the fact that the climate on the intervening night between March 10, 2014 and March 11, 2014 was pretty cool and interspersed with slight showers. In such conditions, a fire on a motorcycle because of short-circuit is highly suspicious.