Congress Scores 3/3 In Rajasthan Bypolls, "Well Done, Proud" Says Rahul Gandhi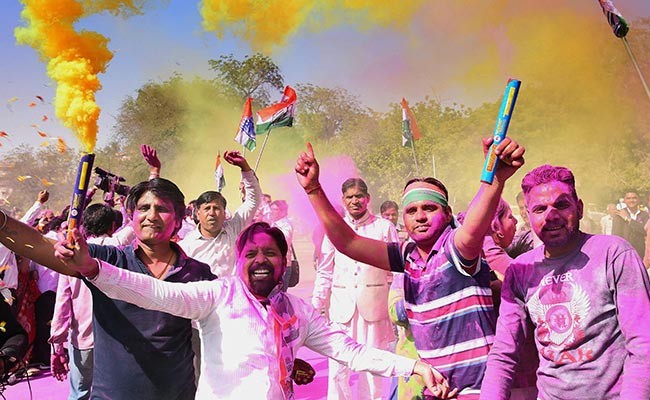 Jaipur: The Congress today won an assembly seat in Rajasthan and raced to victory in two parliamentary bypolls, delivering a major blow to the ruling BJP ahead of several state elections and the national polls next year. The Congress is set to take the Ajmer and Alwar parliamentary seats from the BJP and has won the Mandalgarh assembly segment, also held by the BJP.
"Well done Rajasthan Congress! Proud of each and every one of you. This is a rejection of the BJP by the people of Rajasthan," tweeted Congress president Rahul Gandhi.
By-polls were called after the death of BJP lawmakers in the three seats.
"We are going to study the reasons, but bypolls don't reflect the full picture," said BJP leader Kailash Vijayvargiya.
Both the ruling BJP and the Congress prepped for the by-polls as they would for a full election, with Chief Minister Vasundhara Raje and Congress leader Sachin Pilot campaigning hard.
In the high-voltage run-up to the by-polls, the Congress also accused the BJP of trying to polarise voters and doing nothing to stop attacks on Muslims in incidents mostly linked to cow vigilantes.
Sachin Pilot said today's polls mark his party's comeback trail in a big state at an important point in national politics.
"Initial trends show that the people have given their blessings to the Congress and have rejected the Vasundhara Raje government and its policies. Young people have realised that the politics of polarisation doesn't work," said Sachin Pilot, who had lost the Ajmer seat in the 2014 Lok Sabha election in which the Congress failed to win a single seat in Rajasthan.
Mr Pilot had shifted to Ajmer after his family bastion Dausa became a reserved seat in 2009. But he lost to Sanwar Lal Jat, who died last year.
The Congress fielded Raghu Sharma in the seat this time, against Ram Swaroop Lamba of the BJP.
All three seats are linked to Rahul Gandhi's top lieutenants in Rajasthan – Mr Pilot, CP Joshi and Jitendra Singh Bhanwar.
The BJP and Vasundhara Raje went all out in their campaign to retain the seats, with the Chief Minister dividing her time between Ajmer and Alwar.