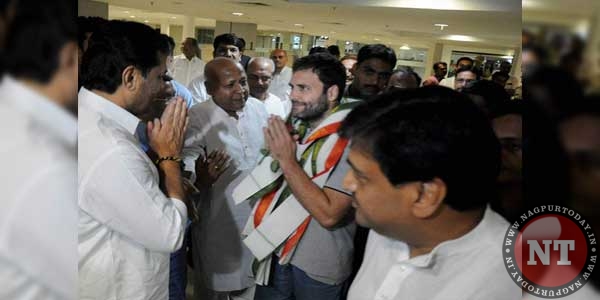 Nagpur: For paying his acknowledgment to HMT inventor late Dadaji Khobragade, Congress President Rahul Gandhi arrived in the city on Wednesday morning. After getting to know that congress party workers and activist are waiting for him Congress Chief greeted them and immediately left for late Khobragade's house in village Nanded in Nagbhid tehsil with a helicopter.
Accompanied by Mohan Prakash, general secretary, Indian National Congress, Ashok Chavan, Maharashtra Congress Chief, senior congress leader Manikrao Thakre, opposition leader Radhakrishna Vikhe Patil, a special flight of Rahul Gandhi landed on Nagpur airport at 11am.
Ex minister Vilas Muttemwar, Vikas Thakre, city president, Rajendra Mulak, district president, Anantrao Gharad, Dr Babanrao Taywade, Nana Gawande along with many other congress activist were present on this ocassion to welcome their new chief.
After elected as a congress president, this was the first visit of Rahul Gandhi to the city. After getting tip-off from party member, that there are party workers gathered around the airport to see him, he immediately accepted their gesture. Due to security reasons he didn't came out of the airport but through glass door he waved his hand and gave his best regards to party workers.
Delighted with a glimpse of their national president congress workers chanted slogans of Rahul Gandhi on this occasion.