CKKFI conducts national black belt examination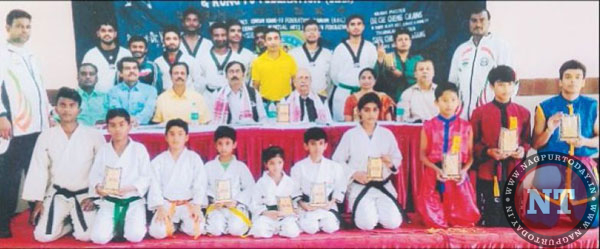 THE Chinese Kuoshu Kung-Fu Federation of India (CKKFI) conducted national-level black belt examination at MLA Hostel Hall recently. Top players and coaches from Assam and Maharashtra took part in the event and the successful players were awarded black belts.
Chief trainer of Assam Kuoshu Kung-Fu Association Gautam Das was the chief examiner. Pranjal Das, Dubrojyoti Bordole, Jagdish Burarth, Kailash Burman, Nasuttam Boro were awarded the black belt and II Dan degree.
Apart from the exams,amega martial arts demonstration including kuoshu kung-fu, karate, taekwon-do,kushuando the rarts were held on the occasion. Demonstration of kuoshu kungfu was conducted under the guidance of Das while Shihan Jagdish Patil oversaw the karate demo.
Master Manoj Kohare and Master Sushant Bhoyar looked after taekwon-do presentation. Noted social worker and senior Bharatiya Janata Party leader Balasaheb Desai was the chief guest of the function. President of CKKFI and internationally acclaimed 7th degree black belt holder Dr Vinod Raut shared the dais.
Deepak Shendekar Jain conducted the proceedings. A host of players, who excelled in the international karate championship that was recently held in Thailand were also felicitated with gifts and mementoes.
They included Jagdish Patil, Deepchand Shende, Vishwajit Gaikwad and Ansh Patil. Shendekar, Dilip Maliye, Satish Sharma, Vandana Sathavne, Prabhakar Yeole and Suresh Chaudhary wereamong those who worked hard to make the event a big success.