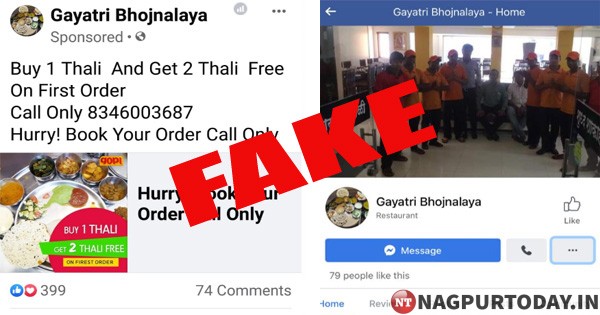 Nagpur: In what could be termed as "idle man's brain is devil's workshop", a hacker created a fake account in Facebook in the name of Ajay Joshi, the son of the proprietor of Gayatri Bhojnalaya and after advertising a fake message of "One Plate Free with the booking of One Plate". Many innocent citizens played into the hands of this unscrupulous element and had thousands of rupees stolen from their account.
While speaking to Nagpur Today, Ajay Joshi of Gayatri Bhojnalaya said that the hacker had opened an account in his name and had advertised the message "One Plate Free with the booking of One Plate", which attracted a lot of customers because of the reputation of good quality food of Gayatri Bhojnalaya.
The hacker sent a link to those gullible customers who wanted to book the plate of food. The hacker then asked the customer (gullible citizens) to deposit the cost (amount) of one plate into the said account (link given). While some agreed to pay partial amount (with a promise to give the balance at the time of delivery) some did transfer the said amount by clicking on the link.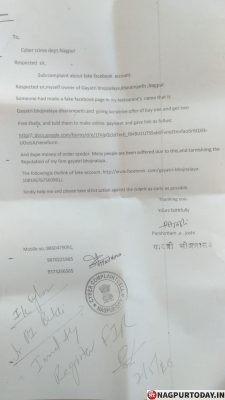 However, as soon as the citizen clicked on the account to transfer the amount, a sizeable amount from their account got stolen. By now as many as fifty people have fallen prey to this unscrupulous hacker. A lady lost around Rs. 1000, while another man lost Rs. 30,000/- and others have lost amounts worth 3000/- to 50,000/-.
A formal complaint has been lodged with the Sitabuldi Police Station and the Cyber Cell of Nagpur City Police. The Cyber Cell personnel are investigating the case.
Ajay Joshi has said that there is no such offer nor was there any such offer in the past. He requested the citizens to beware of this hacker and not respond to any fake links sent by the hacker.
The fake link is: https://www.facebook.com/Gayatri-Bhojnalaya-108106767560981/