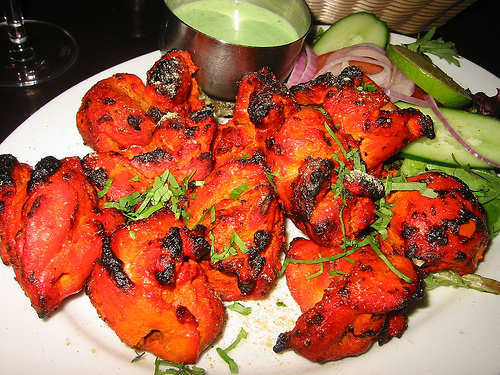 PORTION SIZE: 4
INGREDIENTS                                              QUANTITY
Chicken leg boneless                                      ( 800gm )
Salt                                                                         to taste
Red chilli paste                                                20gm
Lemon Juice                                                     20ml
Garlic Paste                                                      30gm
Hung curd                                                         200gm
Kasoori Methi                                                  20gm
Garam Masala                                                 20gm
Oil                                                                        10ml
METHOD:
Clean the chicken. Put slit on chicken
Marinate it with salt, lemon juice, red chilli paste, and  garlic paste.
Keep aside for 1 hour
Make a marinade with beaten hung curd, salt, red chilli paste, lemon juice, garam masala, kasoori methi and oil.
Squeeze the chicken and put it in a marinade and keep aside for 3 hour.
Put it on skeewer and cook it in tandoor till done.
Serve hot.
:-Chef Khosla