Charity Show : Doctors' Drama Club to play 'Natasamrat' at Deshpande Hall on Feb 25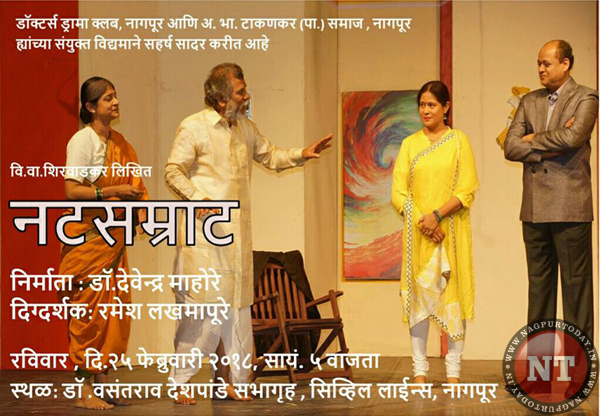 Nagpur: Doctors' Drama Club, Nagpur, in association with All India Takankar Sanstha, Nagpur, will present the epic Marathi 2-act play, ' Natasamrat' on Sunday, 25th February, 2018, at Vasantrao Deshpande Hall, Civil lines, Nagpur at 5 pm.
The play will have most of the renowned doctors portraying various characters. Besides, there will be three child artists too.
Written by the legendary playright, V. V Shirwadkar, the play was first performed on stage in 1973 and the protagonist was played by noted actor, Dr Shriram Lagoo. Set in the 1960's, it describes the pathos of a retired great stage actor. With poignant unforgettable dialogues and impeccable acting by stalwarts, the play ran to packed houses for many years.
'Natasamrat' has now been revived under the direction of well known theatre director, Ramesh Lakhmapure. The story line is still relevant to the world of today. Produced by Dr Devendra Mahore and convened by Dr Anuprita Adhav and Sushma Sushil Solanke, various doctors including Dr Prachi Mahajan, Dr Mahore, Dr Anuprita Bhadage, Dr Rajsi Bundale, Ms Avani Ranade, Dr Abhay Agashe, Dr Nilesh Mahatme, Dr Nilay Nimbalkar, Dr Hema Kashyap, Aparna Lakhamapure, Prakash Pawar, Dr Sameer Chowdhary, Yogendra Ranade, Prashant Sakhre, Abinay Lakhmapure, Kabeer Lakhmapure and Dr Sushil Solanke will be part of the play. They will seen showing their histrionics on the stage.
The proceeds of this show will be donated for providing educational scholarships to tribal girls.
For details, contact on 9922444286, 9823265236