Chaos mars varsity's budget; members demand VC's resignation; mild lathi charge on students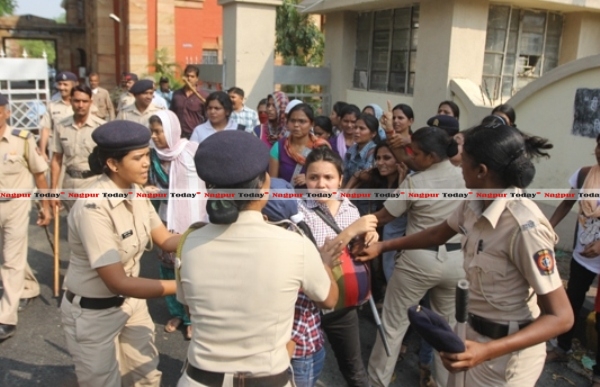 Nagpur Today.
Vice chancellor of Rashtrasant Tukdoji Maharaj Nagpur University (RTMNU) Dr. Vilas Sapkal experienced the bad day on Thursday as the senate members who arrived at the meeting to present varsity's annual budget resorted to chaotic scenes and expressed distrust. The irate members also raised slogans against VC while hundreds of students from Wardha who gathered outside university premises tried to force themselves in the premises. The police resorted to mild lathi charge in order to disperse the crowd. The senate meeting which began on peaceful note on Thursday suddenly went for a toss and was adjourned till further notice. The annual budget too was eventually disapproved.
While the meeting was on Senate Member D.K. Agrawal stood up and tried to submit a resolution to the Chair, which was trashed. As the house got adjourned  the members started shouting slogans, expressed their distrust on the Vice Chancellor and asked him to resign. They also threw the papers in the house.
The Senate Members D.K. Agrawal and Baban Taywade while talking to the scribes said the Senate of the RTMNU is under a statutory duty as per the provisions of Section 26(3) of the Maharashtra Universities Act,1994 to evaluate the actions and decisions of the university administration. The members reiterated that they had lost their trust, faith and confidence in the administration. They also aimed to resolve that the administration under the leadership of Dr. Sapkal should not be permitted to incur any further expenditure from public funds.
Earlier in the morning, the University premises in front of Maharajbagh was under heavy police cover, since the varsity was expecting the engineering students who were not allowed jumping the premises to disrupt the proceedings of the meeting.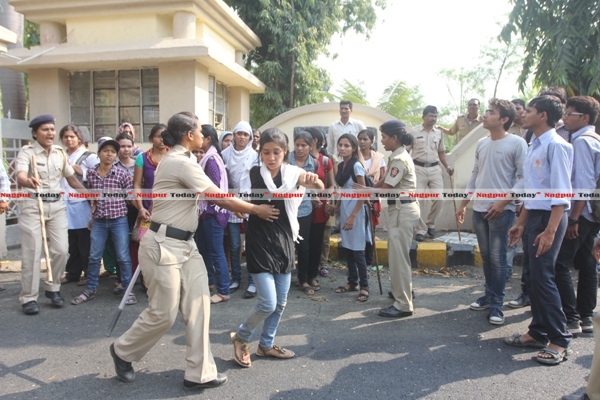 VC warns disciplinary action against members
Talking to the reporters, Vice Chancellor Dr Sapkal said, "I am honest and work according to the rules. I have tried to give many benefits to the students. The allegations leveled against me are baseless. Why is it that only today when the budget was presented, issues contrary to budget were raised?" He said that appropriated disciplinary action will be taken against those members concerned.
Senate Member Dr. Sanjay Chiralwar said that this kind of action and strong-headedness creating bad image of RTMNU. He said that students and parents should not panic, there is no degradation in the level of education or in any other respect.