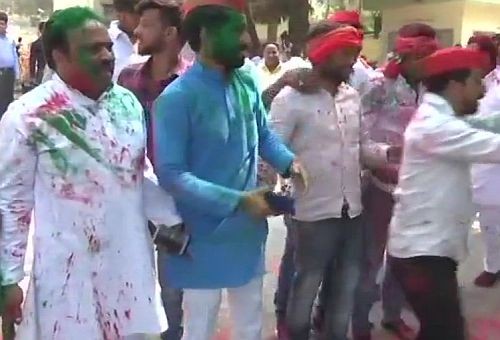 Gorakhpur: SP's Praveen Kumar Nishad leading with 2,12,061 votes, BJP's Upendra Dutt Shukla second with 1,92,860 votes after 14th round of counting.
Termed by Yogi Adityanath as a "rehearsal" for the 2019 Lok Sabha election, the by-elections are witnessing a triangular contest involving the ruling BJP, the Samajwadi Party (SP) and the Congress.
The candidates: The saffron party has fielded Kaushalendra Singh Patel from Phulpur and Upendra Dutt Shukla from Gorakhpur against the SP's Pravin Nishad and Nagendra Pratap Singh Patel, respectively. The Congress has nominated Sureetha Kareem for Gorakhpur and Manish Mishra for Phulpur Lok Sabha seat.
Ten candidates are in the fray from Gorakhpur, while 22 candidates are contesting from Phulpur.
Gorakhpur is significant for the BJP as it is the bastion of the chief minister, who represented the seat in the Lok Sabha five times. Prior to Yogi Adityanath, the seat was represented in parliament by his mentor Yogi Avaidyanath thrice.
Bihar, meanwhile, is witnessing a very close contest for Lok Sabha seat in the ongoing Araria by-election, with Rashtriya Janata Dal's Sarafaraz Alam currently in the lead by 455 votes with 19,5527 votes, while Bharatiya Janta Party's Pradip Singh is at second place with 19,5072 votes.
In the state assembly bypoll elections in Bhabua, the BJP is leading with 23,640 votes, while RJD is leading in Jehanabad with 32,554 votes.Stakes are high in Bihar as the by-elections are being seen as a litmus test for the Chief Minister Nitish Kumar, who last year broke away from the grand alliance and allied with the BJP.