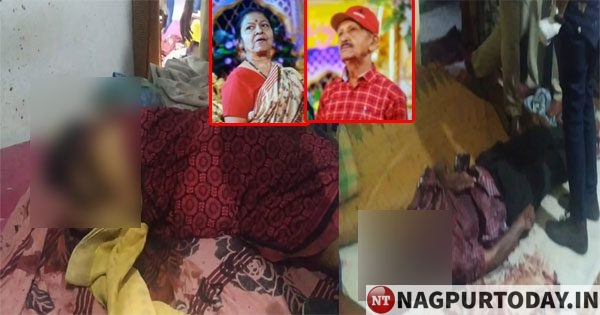 Nagpur: The crime branch on Monday cracked the murder of an elderly couple on Sunday with the arrest of their adopted daughter and her boyfriend. The accused were identified as Aishwarya Champati, 23, and her boyfriend Mohd Eqhlak Khan, 23, a cricketer. The accused had allegedly planned the murder as Aishwarya's parents were critical about their relationship. Shankar Champati, 72, and his wife Seema, 64, were found dead in a pool of blood at the house on Sunday night by their daughter.
Wadi police had registered a case of murder and launched a probe along with their crime branch counterparts. They soon cracked the case and the accused spilled the beans during questioning. It is learnt that the incident could have been avoided if the Wadi police had taken serious cognisance of an earlier assault on Shankar, a few days ago.
Shankar had been attacked by a masked man while he was at his home. A complaint was filed at Wadi police station. It is learnt that Khan had covered his face and attacked Shankar in that incident. DCP (crime) Nilesh Bharne said, "We had early suspicion about Aishwarya so we laid a trap for her and she fell into it. We then nabbed the duo." Police sources said Aishwarya, an IT engineer, works at a company in IT Park, while Khan is a cricketer.
Aishwarya's parents had died in an accident when she was eight months old, after which the Champati couple had adopted her. When Aishwarya was in Std VIII, she came in contact with Khan and the duo soon entered into a relationship. Since the last few days, Shankar was planning to sell his house and move to Pune as he suspected something was going on between Aishwarya and Khan.
Aishwarya told Khan about Shankar's plan, which left him very angry, and the duo decided to kill the couple. On Sunday at around 12 noon, Aishwarya told her parents that she was going to the beauty parlour. While leaving, she spiked the watermelon kept for her parents with a drug, while Khan was standing outside the house. As soon as Aishwarya left, she signalled Khan, who sneaked in and attacked Shankar, who was sleeping, with a large knife.
After killing Shankar, Khan went inside and attacked Seema. He ransacked the place to make it look like a dacoity and fled with the jewellery and cash in the house. Meanwhile, Aishwarya went to a beauty-parlour and later went to a mall at Ramdaspeth with her cousin. When she returned home, Aishwarya raised an alarm and informed neighbours about the murder of her parents.
Sources said crime branch sleuths had suspicions about Aishwarya from the beginning, and laid a trap for her, and she fell for it. During investigations Aishwarya confessed about the murder plan and cops nabbed Khan too. It is learnt that Aishwarya and Khan had tried to outwit the police by deleting their old chats and messages. The duo was apparently watching several police crime TV serials in the recent past and planned according to it, to try and ensure police could not track them.
Mohd Eqhlak Khan shot into the limelight when he hit a double hundred in his first Guzder League 'A' Division match six years ago. He soon entered the Vidarbha fold. The right-hand batsman was a part of Vidarbha Under-16 and Under-19 squads later on. He had been a teammate of many current Under-23 cricketers like Mohit Kale, Siddhesh Wath, Raj Choudhary, Manas Sahare, and Akshay Agrawal. He also hit a hundred in Cooch Behar Trophy match against Goa, and was also the part of the Under-23 squad under Sachin Kataria three years ago.
The local cricketing fraternity expressed shock on hearing about Eqhlak's alleged involvement in the murder. "He always played with positive intent and had a mindset of scoring runs. However, he would often throw his wicket and that's why he couldn't keep his place in the playing eleven. He was a bit temperamental," said one his former teammates told sources.