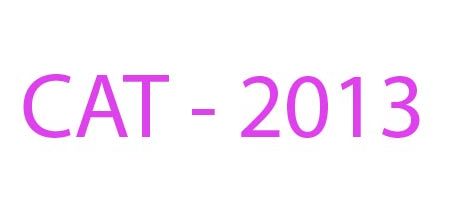 Indian Institutes of   Management (IIM) have notified the dates for Common Admission Test  2013 (CAT 2013) for admission to various Management Programmes including Post Graduate Programme (PGP) in Management and Fellow Programmes in Management (FPM) at the 13 IIMs at Ahmedabad, Bangalore, Calcutta, Indore, Kashipur, Kozhikode, Lucknow, Raipur, Ranchi, Rohtak, Shillong, Tiruchirappalli and Udaipur (as available).  This time CAT 2013 is being coordinated by Indian Institute of Management, Indore.
The CAT will be conducted over a period of 20 days – from 16 October to 11 November 2013 – in Prometric test centers across 40 cities. Prometric in association with IIMs conducts the test.
The Indian Institutes of Management (IIMs) had earlier declared that the registration window will be open from July 29 to September 26.
Similar to last year's exam, CAT 2013 will have two sections. The first will focus on quantitative ability and data interpretation and the second on verbal ability and logical reasoning.
These two sections will be implemented sequentially with separate time limits. The examination will be for 140 minutes.
Candidates will have 70 minutes to answer 30 questions within each section, which will have an on-screen countdown timer.
Once the time ends for the first section, they will move to the second and will be unable to go back, the statement said.