Candidate Speak : Cong's Vilas Muttemwar looks to play up MIHAN, Metro Rail in polls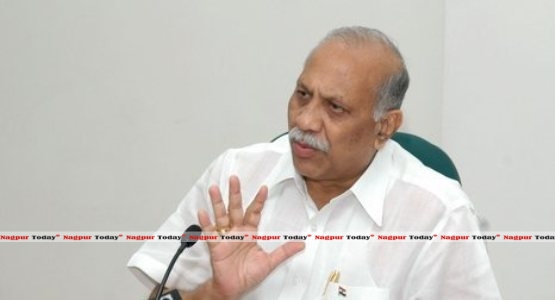 Nagpur News.
Vilas Muttewmar, Congress candidate for Nagpur Lok Sabha seat has been growing in his political stature with consistent win over last three general elections. He has been elected for the six terms earlier and set quite a good equation with his voters. Though insight people are signaling anti-incumbency factor this time, Muttemwar is closely confident about the faith his voters has retained in him. But the fight is never the same and Muttemwar has drawn clear cut strategy to take the changed scenario head on.
Muttemwar,has always dreamt big and has brought the two biggest projects of Vidarbha viz  Gosikhurd and MIHAN is currently riding high on the wave of MIHAN Project that saw some significant activities recently. He has been constantly following up the project. Quizzed about the changed election scenario this time, Muttemwar told Nagpur Today that development is what he is looking towards and statehood to Vidarbha could take the development leaps further. When asked where he sees the issue of separate Vidarbha, he agreed that it is very essential for the development of the region but few leaders have reservations for a separate statehood. He said that he had given a midway solution asking such leaders to shift the capital of Maharastra to Nagpur as Nagpur has all the needed infrastructure for the same. "Earlier Nagpur used to be the capital of CP & Berar so there is a secretariat, an assembly house and MLA hostel already. So the Centre will not have to share any funds for the same."
The Metro Ride
Muttemwar has also been open to sharing the efforts he initiated for streamlining Metro Rail project as he considers it as the dream project both for him and Congress. He exuded that if voted to power again he would focus on speeding up the mode of transportation. He said that it will automatically enhance the business as the travel time cut is directly proportional to the volume of business achieved in a day. Talking about the Zudpi jungle struggle by Congress, he said the efforts resulted in doling out more than 84 lakh hectares of land to Vidarbha to implement various social and economic projects.
Spotless White!
Besides all his political gestures, Muttemwar was keen to reply when asked about his white attire that has been his style quotient now. He said that it is his favorite color and more importantly, spots on white is visible so it is very important to keep away from spots in social personal and political life.
Political journey till date
Vilas Muttemwar (orig. Muthyamwar) (born 22 March 1949) is a member of the 14th Lok Sabha of India. He represents the Nagpur Loksabha constituency of Maharashtra and is a member of the Indian National Congress (INC) political party. He is former minister of state (independent charge) of Ministry of New and Renewable Energy of India. He has been re-elected from the Nagpur Loksabha Constituency as a member of the 15th Loksabha, the results of which were declared on the 16th of May 2009. This is his 7th term and had been elected to 7th, 8th, 10th 12th, 13th and 14th Lok Sabha.
…Manohar Roy