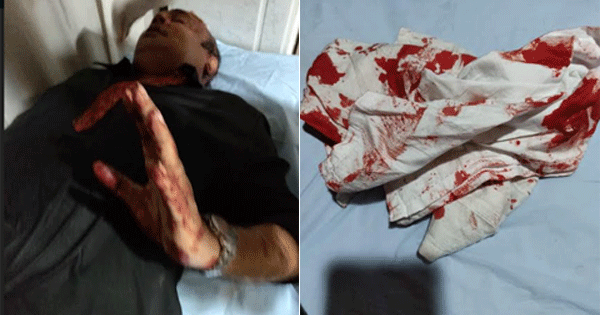 Nagpur: Diwali bash at city's CP Club turned bloody as a businessman was attacked by a bunch of youths following a brawl. The accused youngsters assaulted the man with beer bottles, broken glasses and injured him seriously on Wednesday. The accused also attacked friend of the businessman.
The injured businessman has been identified as Brajesh Sushilkumar Khemka (42), resident of Mount Road, Sadar. His friend Sumit Thakkar was also attacked. The CP Club is visited by top government officials, businessmen and elite and affluent people.
The main accused has been identified as Jaspreet Singh Tuli. Earlier, Jaspreet and other accused were booked under Sections 323, 506, 34 of the IPC but cops later added Section 326 against the accused. It is learnt that the accused Jaspreet Singh Tuli runs a hotel named 'Haveli.' While Tuli fled the spot immediately after the incident, the profusely bleeding Khemka was rushed to Sengupta Hospital at Ravi Nagar Square for treatment. Doctors treated Khemka's head and face injury with 30 stitches.
According to sources, cops had booked the accused under Sections 324, 323, 506, 34 of the IPC for causing grievous injuries and criminal intimidation. But later, Section 326 was added against the accused. However, questions are being raised as to why the accused were not booked on attempt to murder charge. Clarifying the stand, the Senior Poilce Inspector of Sadar Police Station Sunil Bonde stressed that the Sections were slapped against the accused as per injuries. The only fault of Khemka was that he asked the accused to help a assault victim at CP Club to apply ice on his injuries. This enraged the accused Jaspreet Singh Tuli and he attacked Khemka instead.
According to police, Khemka told them that he along with his family had gone to Civil Lines-based CP Club for 'Diwali Milan' programme on Wednesday, November 7. The event was being attended by many reputed personalities. However, when Khemka and his friend Sumit Thakkar went to washroom, they saw the accused Jaspreet Singh Tuli and his accomplices were attacking a youth. The youth was bleeding from head injury. Khemka advised the attackers to take the injured youth to out and apply ice on his injury. But instead of heeding to his advice, the accused Jaspreet and others attacked Khemka and Thakkar. The accused not only punched and kicked Khemka but also smashed liquor and beer bottles on his head. The profusely bleeding Khemka was rushed to Sengupta Hospital for medical aid and received 30 stitches on his head and face injuries.
After registering the case, cops have mounted a search of the accused Jaspreet Singh Tuli and others.