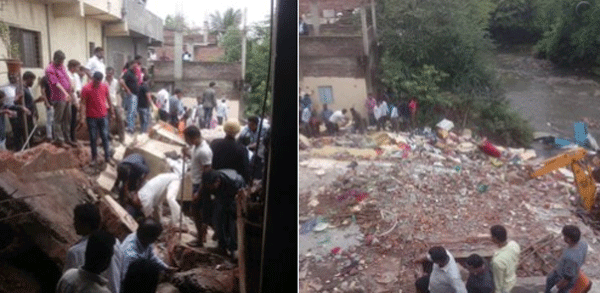 Pune: Eight persons on Saturday were rescued and a child is still feared trapped under the debris as a 2-storey building collapsed in Mundhwa area of Pune in Maharashtra. The rescue operation is still underway.
The incident was reported from near Keshavnagar around 12.30 PM. The injured have been rushed to the hospital. As per reports, the building was 30 years old and it was served a notice by municipal corporation.
Earlier reports suggested that five people were injured and two others are suspected to be trapped.
More details are awaited.
In a similar incident which took place a couple of days earlier, at least nine people were dead and several others were feared to be trapped inside a rubble after two adjacent buildings collapsed in Greater Noida. While one of the buildings was under-construction, the other was unauthorised. It was said that the collapse might have occurred due to use of sub-standard materials and weak foundation of the buildings.
Rescuers deployed heavy machinery to shift concrete slabs and used drills in a bid to reach out to the people who were buried under the debris. The police had arrested four people although a charge-sheet against 24 people had been registered.