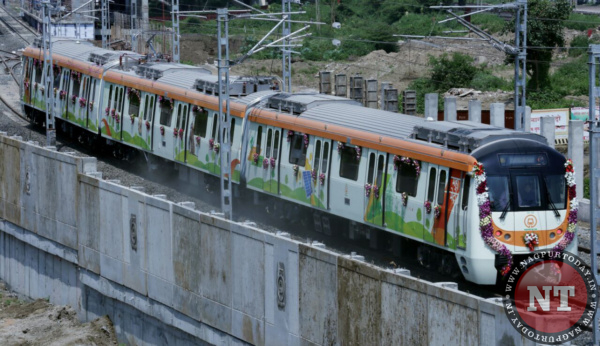 Nagpur: As the metro rail project is being carried out on fast track in Nagpur, the builders lobby floating the project around the metro corridor has demanded more flexibility to streamline their projects. The concerned city builders have express their dissatisfaction towards the amended transit oriented development (TOD) policy of state urban development ministry (UD) for Nagpur Metro Rail corridor and have sought further relaxation.
The Nagpur unit of Credai has submitted a memorandum to UD in this regard. The ministry had earlier amended the TOD policy on request of builders.
TOD policy is vital for the success of Nagpur Metro. If more people live along Metro corridor, the ridership of the mass transit system will be higher. In addition, MahaMetro will earn 50% premium on extra floor to space index (FSI).
Earlier, UD had permitted open balconies in marginal spaces on request of builders. The balconies will be allowed in buildings leaving minimum three metres distance from the plot boundaries.
Anil Nair, city president of Credai, said that at present extra FSI was not permissible on plots on roads having width less than 9 metre. "We want the government to sanction a FSI of 1.5 on narrow roads and on plots of any size. Many roads in the Metro Rail corridor area are narrow and residents should not be deprived of benefit of the policy," he added.
As per the present policy lift wells with machine rooms, refuge areas, voids, service floor, entrance lobbies and lobbies of the building in will not be counted in FSI. The builders want that all passages on all floors should also be free of FSI.
"The TOD policy only mentions the side margins. There is no mention of the front margin. We have, therefore, suggested that the front margin should be fixed on the basis of road width and building height. It should be 6 metres for road width of 9 metres and building height of 24 metres, 9 metres for road width of 12 metres and building height of up to 50 metres, 12 metre margin for road width of 18 metre and building height of between 50 metre and 70 metre and 12 metre for road width of 18 metre and building height of above 70 metre respectively," said Nair.
"In cases when ever relaxation in height is required, it can be given by paying relaxation charges as precedence. The height of the building should be fully regulated by front road of higher width in case of double frontage or corner plots," he added.
Nair further said that if 3 metres strip was left for public parking or pedestrian pathway requirement of visitor parking should be down away with.