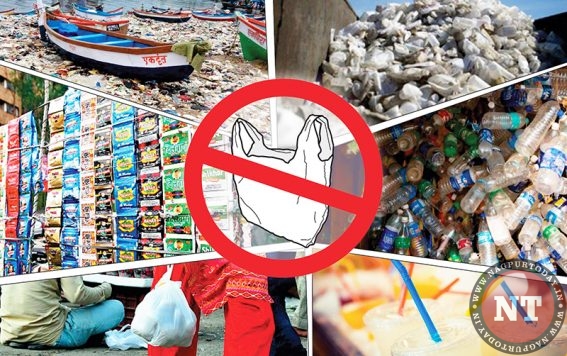 Mumbai: In a significant development, the Bombay High Court on Friday refused to stay the Maharashtra Government notification banning use of plastic materials in State.
The High Court was hearing petitions filed by manufacturers and retailers of plastic, PET bottles and thermocol, challenging the plastic ban.
Meanwhile, the Maharashtra Government has extended the deadline for disposal of existing plastic stock to 3 months. The State Government has also lifted the ban on small-size (less than 0.5 litre) plastic bottles after the Bombay High Court on Thursday questioned the Government as to why the three-month exemption from the ban to end-users of PET bottles wasn't offered.
Notably, the ban on single-use plastic bags and many other items came into force in the state on March 23. Manufacturers and sellers were given one month's time to dispose of or recycle the existing stock. In a notification issued on the other day, the Dtate Environment Department said that this time is being extended to three months. It also said that PET / PETE bottles with a capacity of 1 litre or more will have printed on them the buy-back price of Re 1. PET/ PETE bottles of smaller capacity will have printed on them the buy-back price of Rs 2. An official from the Environment Department said that manufacturers and sellers of PET / PETE bottles will have to develop "Buy Back Depository Mechanism" within three months. They have also been asked to set up, within three months, collection centres where customers can hand over used plastic bottles for the prescribed buy-back price. "After the mechanism is in place for buy-back and recycling, we will start taking action against the violators," added the official.
The Bombay High Court had questioned the government's decision to give three months' time to manufacturers to dispose of PET/ PETE bottles, but not extending the same relief to the people using them. A division bench of Justices A S Oka and Riyaz Chagla sought to know if the three months' time has been extended for the public too.
"What if a common man is found with such a bottle? He or she will not know if the said bottle meets the criteria laid down by the government," Justice Oka said. "If the manufacturers have been given three months to dispose (of) their existing stock, has the same been extended to the public also?" he asked. Government counsel E P Bharucha said the people found with plastic bottles which do not meet the criteria would be penalised."The three months' time granted to manufacturers is so that they can recycle or dispose of the existing stock of plastic bottles. The state has to start the ban somewhere," Bharucha said.