Body of 12-year old boy found in Sakkardara lake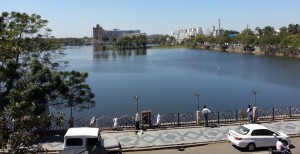 Nagpur News:
Sensation prevailed when body of a 12-year old boy was found floating in the Sakkardara Lake on Saturday (August 24).
According to report, the identity of the boy could no be ascertained. Sources said, three children had come to the lake for fishing purpose. However, one of them lost balance and fell into the lake and got drowned. The other two boys, panicked by the incident, fled the spot. The Sakkardara police reached the lake after receiving the information and sent the body for post-mortem to the Government Hospital. Further, probe into the incident is on.