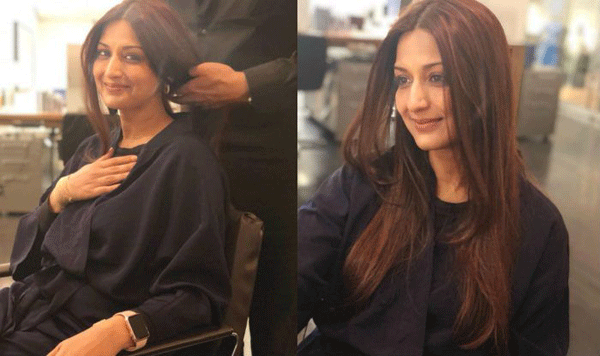 The new year is not just about celebrations, setting new resolutions and letting go of the past year. For some, it's also about cherishing what they got and deriving courage from the difficult phase they faced last year. For Sonali Bendre, it's exactly the same. The actress has made an inspiring New Year-special post on Instagram. In the post, she has shared two pictures of her having her hair blow dried. Her long beautiful hair is something Sonali wish to have back in 2019 and the post is about never giving up on things that you genuinely want so bad in life.
Sonali has written, "Throwback to my last blow-dry before I cut my hair. Now that my hair is gradually growing back…. Maybe I can look forward to another blow-dry in 2019! This journey has been immense and has taught me so so much…. From being in awe of the body's willingness and capacity to fight and heal and recover to overwhelming gratitude to the people who have stood by me and been pillars of strength to being reminded of life's transience and that things come and go (much like my hair). Here's looking towards a healthier and happier 2019. Onwards and upwards… #SwitchOnTheSunshine #OneDayAtATime". Here's the post:
It was in 2018 that Sonali got diagnosed with metastasized cancer, for which she is undergoing treatment in New York. The actress keeps making some motivating social media posts related to her life and how she's fighting each day without giving up. In her post a few weeks back, she also praised her husband, Goldie Behl for always supporting her. Sonali made an anniversary special post and wrote, "As soon I began to write this… I knew instantly that I wouldn't be able to put down in words all the emotions and thoughts that were running through my head."
She added, "Husband. Companion. Best friend. My rock. For me, that's @goldiebehl. Marriage is standing by each other, through thick and thin, in sickness and in health… and god knows, how we've been through that this year.
What not many people realize is that cancer is not just an individual battle… it's something that a family collectively goes through. I was also able to go on this journey, knowing that you'd juggle all your responsibilities, and take on some more and hold fort back home… all this while shuttling between two continents.
Thank you for being my source of strength, love and joy, for being with me every single step of the way… thank you is such an understatement for how I feel. What do I say about someone who is a part of you, who is yours and nothing and nobody else matters?
Happy anniversary Goldie!"
We wish a speedy recovery to Sonali and more happiness this new year!