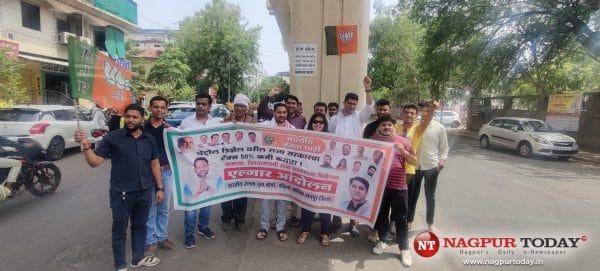 Nagpur: The Bharatiya Janata Yuva Morcha (BJYM), Nagpur Mahanagar, on Wednesday staged protests in all the six assembly constituencies in Nagpur over the fuel taxes levied by the State Government. A memorandum was submitted to the State Government through Resident Deputy District Collector Vijaya Bankar.
It is a well-known fact that global crude oil prices have skyrocketed, but the Central Government has reduced the excise duty on petrol by Rs 8 and diesel by Rs 6 per litre to control inflation. This will put a burden of over Rs 2 lakh crore on the Central Government. But the Centre took this step only in the interest of the people.
Today, the Central Government levies a tax of Rs 19 and the State Government levies a tax of Rs 30 on fuel. Maharashtra is the highest taxing state on petrol and diesel in the country. The BJYM said in a statement that the fuel tax levied by the state government should be reduced immediately to curb inflation and bring relief to the people. If the State Government does not reduce the tax of fuel within 72 hours, an intense stir will be launched across the state, warned BJYM.
The BJYM agitation was conducted under the guidance of City BJP President Pravin Datke, State General Secretary Shivani Dani Vakhre and under the leadership of BJYM City President Parendra (Vicky) Patle. Also present were BJYM State Secretary Rahul Khangar, Kalyan Deshpande, BJYM City General Secretary Sachin Karare, Dipanshu Lingayat, Amol Tidke, Manish Meshram, state executive members Devdutt Dehankar, Ritesh Rahate, Sachin Savarkar, Prasidhi Pramukh Prasad Mujumdar, Joint Pramukh Manmeet Pillare, Student Front Coordinator Sanket Kukde and others.
In South West Nagpur, the agitation was led by Nilesh Raut, former Corporator Vijay Chutele, City Secretray Hershal Tijare, Akshay Dani, Ashutosh Bhagat and Ankit Wankhede. General Secretary Akash Bhede, Amit Barai, Himashu Shukla, Suraj Dubey were present in South Nagpur under the leadership of Amar Dharmare.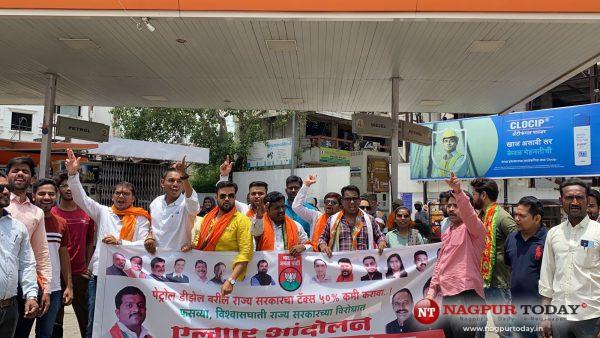 In East Nagpur, Sunny Raut led the protest in the presence of Ashish Mehar, Pintu Patel, Ghanshyam Dhale, Govinda Katekar, Annu Yadav, Hershal Malamkar, Vikas Rahangdale, Hershal Wadekar, Shailesh Netam, Shubham Pathade, Vivek Thawkar, Kartik Rokade, Tushar Thackeray, Tushar Raut, Jayesh Bihare, Karan Agarwal, Atul Kavale, Pratik Tete, Anant Shastrakar, Vishal Behnia, Mangesh Lende, Pallavi Girole, Swati Wagh were present.
In Central Nagpur, Badal Raut led the stir. Akshay Thawkar, Harish Nimje, Atharva Trivedi, Ritesh Pandey, Shubham Samudra, Sameer Yeole, Yash Pandey, Sagar, Pandey, Monu Mane, Nayan Bhagat, Prashant Durge, Anup Khobragade, Pawan Mahakalkar, Sonu Verma, Hitesh Dawale, Vicky Mandlik, Somesh Gaur, Rahul Watkar, Rupesh Kavale, Bhavesh Mataghare, Shubham Maudekar were present. Ishaan Jain, Akshay Sharma and Gaurav Pathak were present in West Nagpur under the leadership of Shekhar Suryavanshi. In North Nagpur, Pankaj Sonkar, Amit Pandey, Jai Sajwani, Saurabh Parashar, Vicky Bagle, Ashish Mishra and Pravin Bilse were present.