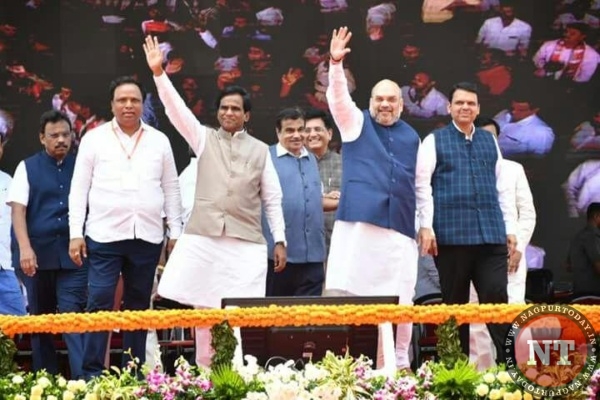 Mumbai: The Bharatiya Janata Party (BJP) on Friday organised grand celebrations, marking the party's 38th foundation day in Mumbai. BJP decided to dedicate its day-long effort to party workers at a time when it is either directly or indirectly in power in 21 states. Prime Minister Narendra Modi will interact with BJP workers of five Lok Sabha seats and with the presidents of the party's 734 district units today on the occasion of its 38 foundation day, a BJP statement said.
The five Lok Sabha constituencies chosen are New Delhi, North East Delhi, Hamirpur in Himachal Pradesh, North Central Mumbai and Saran in Bihar. Their MPs are Meenakshi Lekhi, Manoj Tiwari, Anurag Thakur, Poonam Mahajan and Rajiv Pratap Rudy respectively. The interaction comes amid an acrimonious slugfest involving the BJP and the opposition, especially the Congress, over a variety of issues, including the ongoing deadlock in Parliament and Dalit protests. Provision has been made for their comfortable stay with food packets and water supply during the entire duration of their halt in Mumbai.
Besides, similar celebrations shall be held in all districts and other states of India, and various people-oriented welfare programmes of Prime Minister Narendra Modi shall be showcased through digital and social media.
Countdown for 2019 has begun, says Amit Shah
"Narendra Modi is the world's most popular prime minister. BJP workers should spread the word about Modi government's works, and set the stage for 2019 Lok Sabha election." BJP chief Amit Shah told party cadres in Mumbai.
Taking a dig at Congress president Rahul Gandhi, Shah said, "When we lost two Lok Sabha seats recently and Rahul Gandhi distributed sweets. He is the first leader I've seen who would do this." "Today, 20 states are ruled by BJP. This is a thing of joy for the party."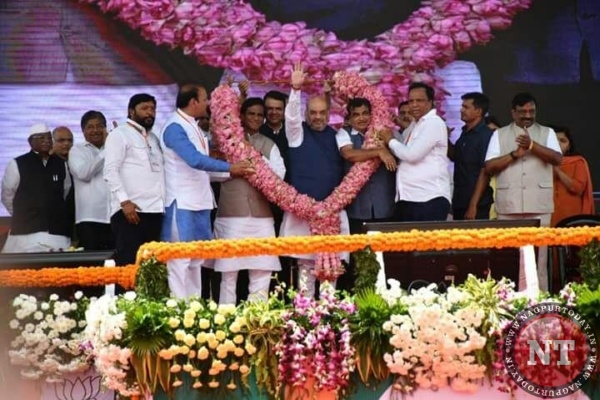 Budget Session washed out because of Opposition, says Amit Shah
BJP president Amit Shah said, "We were ready to address all issues in the Parliament. It was the Opposition that disrupted the proceedings. Ghulam Nabi Azad, you fix the stage and we'll be up for debate. We have nothing to hide."
"On the foundation day of BJP, I want to congratulate millions of party workers and well-wishers of the party. Our party started with 10 members. Now we are the largest political party in India. BJP has sacrificed the highest number of workers in the history of India's democracy, I pay homage to all the workers. Our party started with 10 members and today we have more than 11 crore members. Bharatiya Janata Party has succeeded in creating an organizational, patriotic and good governing party in its journey of years."
Ashish Shelar addresses rally, Amit Shah releases book on farmer issue
Maharashtra BJP chief Ashish Shelar welcomed BJP chief Amit Shah to the foundation day event in Mumbai.This was followed by the release of two books, one of which was on the farmer situation in Maharashtra.
Union shipping minister Nitin Gadkari says," If there is a party which has cadres willing to sacrifice themselves for the country's progress, then it is BJP. You know, the term 'secular' is often used in India's politics. The day the poor gets roti, kapda, makaan (food, clothing and shelter),, that is when we will know we have achieved something."
He also spoke on Prime Minister Narendra Modi's vision for 'new India'. "For New India, we need research, and technology. We want to use technology to bring good governance and development," he said.
BJP Foundation Day celebration will see over 3 lakh party workers: The 'Maha Rally' at the Bandra Kurla Complex in Central Mumbai will have in attendance, Maharashtra Chief Minister Devendra Fadnavis among other party members who are to arrive from across the state. BJP had booked 28 trains and 50,000 private buses and vehicles for the mega event.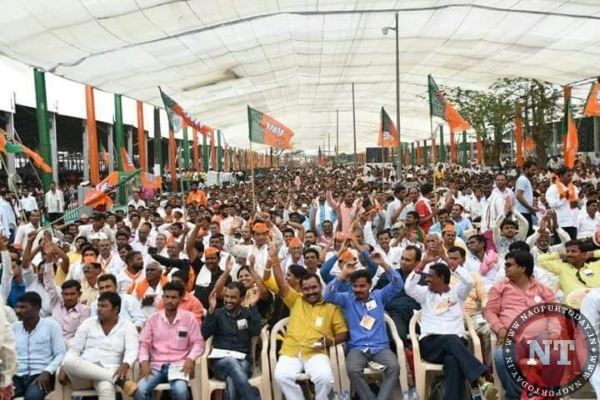 Amit Shah chaired Maharashtra BJP core committee meet in Mumbai: Amit Shah on Thursday chaired a meeting of the party's Maharashtra unit core committee and discussed issues such as the expansion of organisational base at the booth level and setting up of hi-tech party offices in every district.
Chief Minister Devendra Fadnavis, Union minister Piyush Goyal, state BJP chief Raosaheb Danve, Revenue minister Chandrakant Patil, former cabinet minister Eknath Khadse and Mumbai BJP president Ashish Shelar attended the meeting held at a luxury hotel in suburban Bandra tonight.
Shah took stock of the preparations for Friday's mega rally in Mumbai, from where the BJP will kick off its campaign for 2019 polls, a BJP source said.