The Centre could be of immense help in tackling bio-terrorism and also effectively killing diseases transmitted from animals to human beings and from human beings to animals.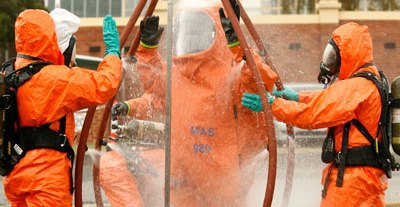 Nagpur News.
With terror outfits going hi-tech with every passing day and fanatic minds going deadlier, the most-feared danger of bio-terrorism is emerging as the biggest threat to the nation. In this potential situation of grave hazard, a proposal to set up Zoonosis Centre in Nagpur's Veterinary College had been sanctioned but due to lack of grant of funds the all-important Centre is being found in limbo and is awaiting necessary funds to begin its functioning. The Centre could be of immense help in tackling bio-terrorism and also effectively killing diseases transmitted from animals to human beings and from human beings to animals.
190 BACTERIA, VIRUSES, GERMS IN BIO-TERRORISM:
According to reports, bio-terrorism hosts about 190 types of bacteria, viruses, germs, fungus in the natural environment. And these consist of deadly Anthrax, Salmonella species, Tularemia, Glanders, Bubonic plague, Botulism. Some of these are in powder form which could be easily released in the air and water or even in someone's food. All these bacteria, viruses, germs could kill human beings or animals within 24 hours.
FUND CRISIS:
According to experts, the bio-terrorism could only be tackled by only veterinary doctors. The Indian Council of Agriculture Research (ICAR) and Indian Council of Medical Research (ICMR) had jointly sent a proposal to Central Government for setting up of the Zoonosis Centre. The Central Government sanctioned the establishment of the Zoonosis Centre but the Centre is facing the financial problems. The Central Government in 2009 proposed the setting up of the Centre in Nagpur's Veterinary College. The Centre was supposed to do research on the diseases transmitted from animals to human beings and vice versa and research on vaccines for effectively curbing the diseases.
WORLD HEALTH ORGANISATION'S CENTRE:
It may be recalled, the World Health Organization (WHO) has established Commission for Zoonosis under which Zoonosis Diseases Control Board and Control of Vector Borne Diseases Centre has been functioning. However, India, it appears, is not serious in setting up the Zoonosis Centre even after dozens of terror attacks.
ZOONOSIS DISEASES:
The 70 per cent of zoonosis diseases are transmitted by the wild animals to domestic animals and then to human beings. The International Veterinary Students' Association (IVSA) and Wildlife Conservation and Agro Rural Conservation had asked the Maharashtra Forest Department and Maharashtra Animal and Fishery University to set up Wildlife Research Centre and Forensic Research Centre as soon as possible after considering five National Parks and five Tiger Reserves in the vicinity of Nagpur.
It may be recalled, there are 14 Veterinary Universities and 40 Veterinary Colleges in the country. There are Wildlife Research Centres and Forensic Research Centres in Karnataka's Bidar, Madhya Pradesh's Jabalpur, Tamilnadu's Chennai, Kerala's Trichur and other Veterinariy Universities. But Maharashtra lacks it. Five Veterinary Colleges come under Nagpur's Veterinary College.
CENTRES NEED TO FIGHT BIO-TERRORISM:
The Government must set up Wildlife Health Centre, Forensic Centre, and Zoonosis Centre in order to fight the potential danger of bio-terrorism. These centres must be provided the necessary boost research on effective vaccines and new drugs which could prove useful in eliminating the terror, asserted Dr Mangesh Nakade, Veterinary Physician and Surgeon.
The Associate Dean of Nagpur Veterinary College C R Jangde said, the Zoonosis Centre has been sanctioned but the work on it has not been started yet.
BIO-TERRORISM ATTACK:
A bio-terrorism attack is the deliberate release of viruses, bacteria, or other germs to cause illness or death. These germs are often found in nature. But they can sometimes be made more harmful by increasing their ability to cause disease, spread, or resist medical treatment.
Biological agents spread through the air, water, or in food. Some can also spread from person to person. They can be very hard to detect. They don't cause illness for several hours or days. Bio-defense uses medical measures to protect people against bio-terrorism. This includes medicines and vaccinations. It also includes medical research and preparations to defend against bio-terrorist attacks.
Bio-terrorism is an attractive weapon because biological agents are relatively easy and inexpensive to obtain, can be easily disseminated, and can cause widespread fear and panic beyond the actual physical damage they can cause.