Nagpur: In what could be mentioned as adding one more feather to their caps, the Nagpur Round Table-83 performed the Bhoomipujan of their 6th project which they have undertaken recently. Nagpur Round Table 83 performed the Ground Breaking (Bhoomipujan) ceremony of their 6th project on November 26, 2016 at Nagpur Bal Mandir Sanstha's Pranjpe School at Dharampeth, behind Titan Show Room Shankar Nagar Square.
"Bal Mandir Sanstha" is a 67 years old organization in Nagpur. They are very strong in their foundation and principles. The school benefited more than 4000 children till date. At Bal Mandir Sanstha, they intend to make three class-rooms at a time. They intend to make class-rooms in many phases. They have to undertake the construction work only during the summer vacations when the school is empty.
The making of classrooms will indirectly help the orphan children since they will get an independent space (which at the moment is occupied for class-rooms).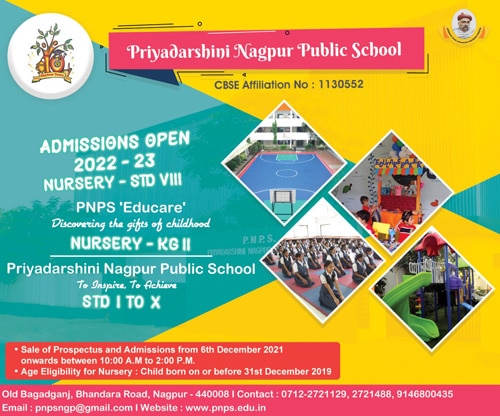 Nagpur Round Table has been in existence for past many years. Year on year by doing charity events and projects they work for their common goal of Round Table India – Freedom Through Education and under which NRT 83 has till date made 5 schools and many other small and big social work which benefited the society in million other ways. RTI has been making school in India from the year 2000 onwards and has made more than 4500 class rooms till date which in-turn has benefitted more than 1 million children in perusing their education.
Senior office-bearers and Tablers of Round Table India including Immediate Past Chairman of Area 3Tabler Hitesh Kering, Chairman Area 3 Tabler Manan Soni Area, Chairman NRT-83Tabler Nilay Verma had come from all over the country like Mumbai, Nashik, Pune and Raipur along with members of Nagpur chapter were present for the Bhoomipujan ceremony. Other guests are dignitaries were also present along with children who would be directly benefitted of this project along with orphanage students.

Owner of a NSE BSE Listed Conglomerate Hete said his son had studied here in this Paranjpe School about 25years back was also present on the occasion.
The office-bearers who addressed the children, guests said that it gives them immense pleasure to see that the under-priviledged children getting an opportunity to sit comfortably and studying in the very class-rooms that RTI has built. He urged the children that when they grow up and become successful people, they should also come back and give back to their alma-mater or other such needy organization in any way they can. The office-bearers of the Bal Mandir Sanstha including Trustees of Bal Mandir Sanstha President of Bal Mandir Sanstha Shaila Fadnavis, Secretary of Bal Mandir Sanstha Dr. Ranjana Pardhi claimed that their late founder would be really very happy at the way RTI has come forward to undertake the philanthropic work.
The Tablers present there pooled in Rs.11000/- and made an instant donation to the Orphanage.