Bhima Koregaon: Maharashtra Govt Starts Re-investigation into Cases Against Arrested Activists

On January 23, Deputy CM Ajit Pawar chaired a meeting of high level police officers of the state to take stock of the Bhima Koregaon riots cases and asked investigation officers to submit the proofs used to build the case against the arrested social activists.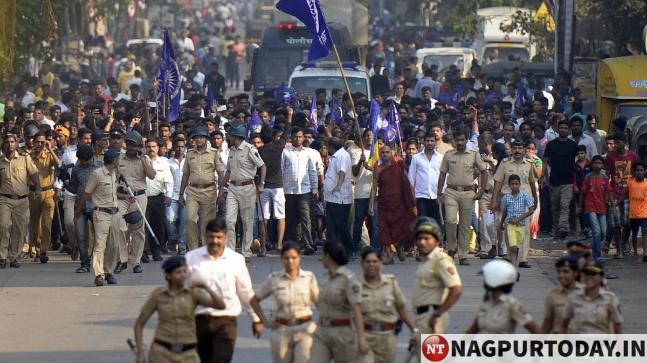 At a meeting held on January 23 at Maharashtra's Mantralaya (Secretariat), Deputy Chief Minister Ajit Pawar asked Director General of Police Subodh Jaiswal and State Intelligence Commissioner Rashmi Shukla to submit the proofs in the cases against social activists including Sudha Bhardwaj and Rona Wilson in the Bhima Koregaon- Elgar Parishad incident. The meeting was held after Nationalist Congress Party chief Sharad Pawar publicly spoke and later wrote to Chief Minister Uddhav Thackeray that the riots on January 1, 2018, and fallout of violence was the result of a conspiracy hatched by then BJP government with the help of investigation agencies.
In a review meeting attended by Home Minister Anil Deshmukh, Minister of State for Home Satej Patil and other senior officers, Ajit Pawar posed a number of questions about the details of the probe. "How did you get the letter that was found in Rona Wilson's laptop which allegedly described the plan to kill Prime Minister?," he questioned the officers. He also raised a question on how police came to the conclusion that Elgar Parishad was a plan of conspiracy when former Supreme Court Judge and one of the highly respected legal luminaries of the country PB Sawant was one of the organisers of the event.
The previous BJP government had alleged the 'Urban Naxal' theory saying that the plan was to destabilise state and instigate youths. Home Minister Anil Deshmukh categorically said that "all people who used to criticise the government were named as 'Urban Naxal'. This was completely wrong and totally undemocratic. We have asked proofs in such cases."
A week earlier, NCP chief Sharad Pawar had written a letter to CM Thackeray and demanded a probe into the matter. He said in the letter that he knows many of the people arrested in the Bhima Koregaon cases and they are reputed social activists. He mentioned the works of Sudha Bhardwaj, Telugu poet Varavara Rao and lawyer Surendra Gadling amongst others. He also described Anand Teltumbde as a management expert and author in his letter. He wrote that the earlier government wanted to deflect the attention from the main conspirator of riots and so made this fake case against these activists. "Therefore the investigation should be done under retired High Court judge headed SIT to bring the truth out," Pawar demanded.
The Bhima Koregaon investigation has a number of angles. The sensational claims made by social media platform, WhatsApp, in USA's court about the hacking of accounts of their customers is one among them. The software named 'Pegasus' was reportedly used by agencies to sneak into the mobile phones of dalit activists, mainly linked to Elgar Parishad. Similar allegations were made by Congress leader Digvijay Singh about Maharashtra Police snooping on him. He even claimed that a team of officers had gone to Israel regarding this.
Meanwhile, NCP and Shiv Sena leaders believe that similar snooping was done against Sharad Pawar, Uddhav Thackeray and many leaders of these parties during the formation of Maharashtra Vikas Aghadi government in October and November 2019. Though on record, HM Deshmukh didn't say anything, but sources who were part present in the meeting informed that Ajit Pawar has asked to find out the names of officers who went to Israel and also get details of snooping done on leaders of these parties.
This meeting may be considered as a beginning of the MVA government's investigation into the matter that has been ongoing for over two years. HM Deshmukh himself said that the review of the case is incomplete and a similar meeting will be held again in last week of January.
But there are various questions that need to be answered by the agencies in this probe. These questions are politically as well as administratively important for the state.
The larger question here is whether or not Pegasus was officially invited by Maharashtra government or any agency related to Maharashtra government. Because the software company had informed the US court that they deal only with government and not private players. So, questions arise as to what exactly was the kind of snooping done.
Another important issue is about the so-called 'conspiracy' against PM Modi. Till now, despite repeated demands made by the lawyers of those arrested in the case, Maharashtra police has not given a 'mirror copy' of laptop and computers seized by it during raids in April 2018. A mirror copy is a way to get into the actual log in details of computer or laptops. So, there is a mystery around as to why the police has been delaying this matter.
Also, the Maharashtra Police's affidavit to SC saying Milind Ekbote of Hindu Samasta Aghadi is the conspirator of riots is another puzzle. If the police had found this, then why there was no investigation to probe this angle. Not only that, another accused Sambhaji Bhide of Shri Shiv Pratisthan has also not been investigated in the case.
Politically, these issues are important because the Bhima Koregaon controversy had succeeded in creating a rift between the Maratha and dalit communities in state. There was a buzz in the political circle that this rift helped BJP to divide the anti-BJP votes during Lok Sabha as well as Assembly elections. Both Congress and NCP had assured during the Assembly elections that if voted to power, they will investigate the matter and ensure that the real culprit is brought to the books. Now, the question that remains is whether they will be successful in finding out the actual people responsible for the violence and following political situation.