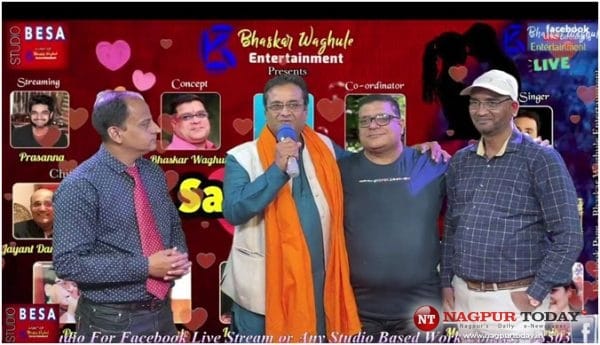 Bhaskar Waghule Entertainment Gp Nagpur has arranged "sadabahar Filmy nagme….. " A tribute to legendary singers by online musical concert.In the lock down period ,BhaskarWaghuleGphas given a musical feast to all viewers. Viewers shower their comments on the Singers and organizers. Huge no comments and compliments was there to the show.
It is unique program for journey of sweet Songs. Dr. Sanjay Uttarwar who is a renowned singer from Nagpur and popular as Voice of Mukesh was Chief Guest for the Event. Vijay Pande, Vijay kapale, Anamika, Sanjay Borkar, Krishna Mahadure, Iqbal Bera, Jayant darve Anjali darvekar, Anandmohone, Shailesh Markanwar, Bhaskarwa ghule was singers who has performed during show.
Bhaskar waghule is a versatile singer who perform songs of various singers with perfection. Show was attended by majority of viewers from Maharashtra and Goa and around the globe .Concept and organizer was Bhaskarwaghule, and Anchor was Anand Mohone. Show was on line from Waghule Studio.
Soulful songs HamneJafanasikhi…, YadrahegaPyarKa…., Mere Jo bhihaikadam…, Baho me Chaleaao…, Kah do na koi kareyahapyar.., DilKeTukde…, Zindgiaarahahunmai…, Wada terawada,…, DilrubaDil pet u…, Ruperiwalut…, Main shayabadnam,, Dilkaaalam…, Kanchi Re Kanchi Re…., AaoHujurTumko…, Na tum hamejano…, Tu mere dil me rahtihai…, and many more songs were presented by Singers.
Na Tum HameJano …., Sung byBhaskarwaghule received loud applaud from audience. Audience enters in the era of legendary singers.
Dr. Sanjay Uttarwaris having immense interest and liking to the field of music. He is associated with various social and cultural bodies of Nagpur. During program , MrBhaskarwaghule and and Krishna Mahadure welcomeand felicitate Dr. S SUttarwar and thank him for blessings for Gp. In reply Dr. Uttarwar highlight to achievement this gpand extend his best wishes to them.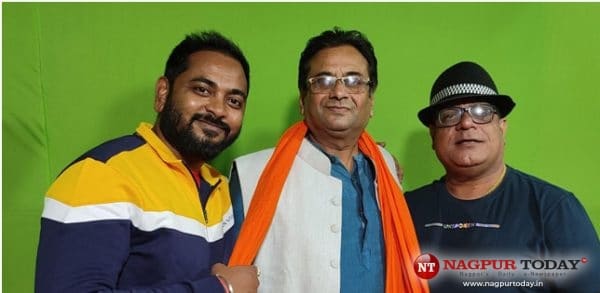 Organisers welcome all on line viewers for joining the program. Renowned people of Nagpurs musical world witness the program on line and extend their best wishes to BW Group .
Anchor AnandMohonedone his job nicely. He narrate various stories in connection with songs.
Viewers gave thanksto BhaskarWaghule for lovely organization and extend their good wishes for future of the them. Program comes to end at 9.00 pm and music lovers moves with euphoria of sweet songs.