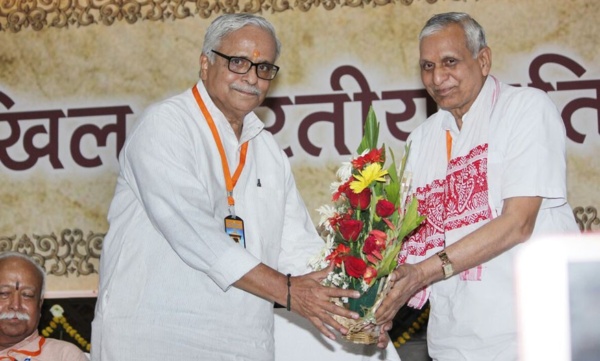 Nagpur: The Rashtriya Swayamsevak Sangh on Saturday re-elected Bhaiyyaji Joshi as general secretary or sarkaryawah of the organisation.
Joshi was re-elected for a period of three years with his term expiring in 2021 in the Akhil Bhartiya Pratinidhi Sabha (ABPS) meeting in Nagpur. This will be his fourth term continuously as sarkaryawah.
Joshi's previous three-year term got over when the ABPS meet which began on Friday. Previously, Joshi has been in office for nine years now; having got two extensions after his nomination in 2009.
Manmohan Vaidya, akhil bharatiya prachaar pramukh of RSS, said, "Bhaiyyaji Joshi had been re-elected as RSS general secretary for a period of 3 years. In view of huge progress in his tenure, re-election was mooted. In Hindu culture, 12 years is an important period. So four office bearers supported it and, since no other name came up, we re-elected Bhaiyyaji Joshi."
Maananeeya Sri Suresh ( Bhaiyaji) Joshi re-elected as #RSS Sarkaryavah ( General Secretary ) for a period of 3 years (2018-2021) by the Akhil Bharatiya Pratinidhi Sabha at Nagpur. #RSSABPS pic.twitter.com/e8ul1iqhyr

— RSS (@RSSorg) March 10, 2018
Sarkaryawah in the RSS hierarchy is the most powerful position after sarsanghchalak and is the chief executive overseeing the organisational apparatus, including Sangh's relationship with its affiliates.
Mohan Bhagwat before assuming office worked as sarkaryawah under KS Sudarshan. A change of guard at number two position has had a direct bearing on Sangh's interactions with the BJP.
"For instance, Advaniji was very comfortable in dealing with Madandas Devi, the sarkaryawah during NDA-I. Later, the when Suresh Soni as seh sarkaryawah (joint general secretary) became the interface between the BJP and the RSS, things changed," a RSS leader said.
Earlier, it was speculated that joint general secretary Dattatreya Hosabale was going to replace Joshi. The RSS pracharak from Karnataka has risen up the ranks and has worked as organisation secretary of the RSS' students wing Akhil Bhartiya Vidyathi Parishad (ABVP).