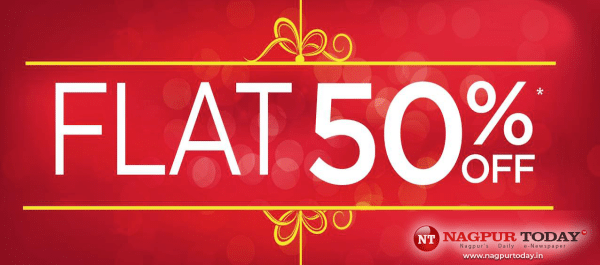 Nagpur: It is really hard to resist a good sale! Especially if shops offer Flat 50% off or Buy One Get One (BOGO) deals to lure the customers in making them believe that they are getting a bargain. However, believe it or not, retailers are actually tricking their customers. They are not marking down anything; instead, marking up prices!
Over the recent times, Nagpurians have been introduced to 'Flat 50% off till end of this year', 'BOGO deals', 'limited period discounts', and several other 'lucrative' sale campaigns resulting in a remarkable shift in the way how customers respond to offer and ultimately skyrocketing the sales of the shops. However, a sale is never really a sale but a trick!
With the onset of festive and wedding seasons, shopkeepers in the Second Capital of the State are trying to woo customers with their 'exclusive deals' and limited period offers. The idea of a limited period offer includes any types of deals, discounts or promotions a customer can receive when they make a purchase in a certain period of time. Limited period offers are basically based on a psychological phenomenon known as Fear Of Missing Out (FOMO) in which refers to the anxiety one may get not being able to experience the thrilling occurrence elsewhere.
Discounts have always managed to lure the customers, but setting a deadline for a certain discount stimulates a sense of urgency that greatly motivates initially-hesitant customers to make a purchase.
Thus, while making a purchase for your loved ones, do verify the offers and don't fall prey to any tricky deals.
… Shubham Nagdeve