Betel nut traders and criminals arrested for stealing betel nuts from DRI godown

Nagpur: Crime Branch of City police busted a racket of betel nut businessmen and criminals for stealing betel nut from a godown sealed by Directorate of Revenue Intelligence (DRI). The police recovered stolen betel nuts worth Rs 17.501akh and two mini trucks from their possession. Arrested accused are identified as Sheikh Rainzan Sheikh Jamil (40), a resident of Minimata Nagar, Kalamna; Kuldip alias Paijama Subhash Ganvir (23), a resident of New Colony, Kalamna; Rajesh Dhanraj Kathane (32), a resident of Chilcali, Kalamna; Suryakcant alias Jagdish Marotrao Pise (32), Jitendra Purushottam ICurre (22), both residents of Gulinohar Nagar, Kalamna; Anil alias Barik Krishna Shahu (19), a resident of Vijay Nagar, Kalamna; Satish Laxminarayan Kesarvani (59), a resident of Lalganj and Rahul Gajanan Bawankule (28), a resident of Bharat Nagar, Kalamna.
In September last year, DRI officers from Ahmedabadhad seized a total of 120 tonne Indonesian betel nuts valued at Rs six crore. The betel nuts consignment was smuggled into India from Myanmar via Mizoram and Manipur. Two trucks loaded with smuggled betel nuts were seized by officers of Central Excise & Customs in Durg (Chattisgarh).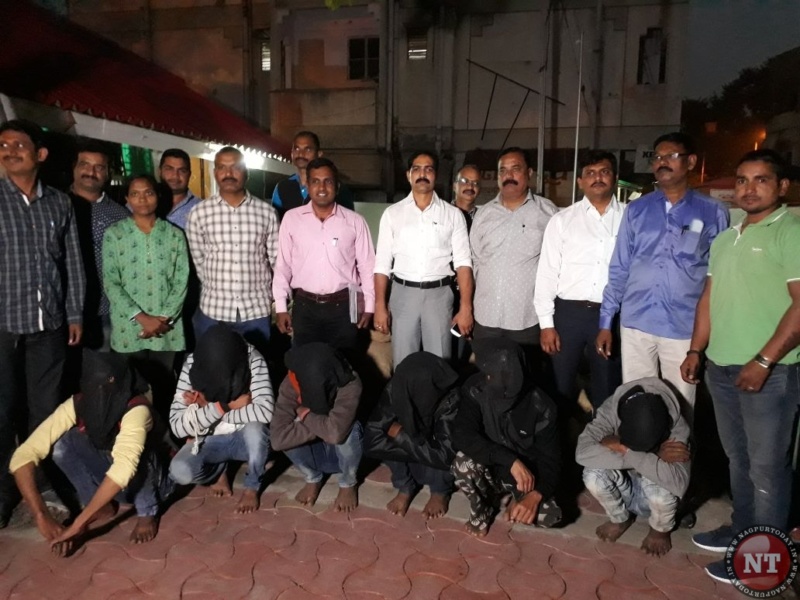 Acting on a tip off, DRI officers visited Gondia. They had seized four truck loads of betel nuts for not paying the custom duty and kept in a godown of Prakash Goyal situated at Umri turning on Bhandara Road. The DRI officers had also sealed the godown. Between October 25, 2017 and February 6, 2018, the accused gained entry into the godown by bending the shutters and took away 231 bags containing betel nuts weighing about 18 tonne worth Rs 45.18.
After stealing, the accused sold the betel nuts to Satish Kesarwania and Rahul Bawankule. The cops have recov-ered 89 sacks of betel nuts worth Rs 17.50 lakh, a Tata Ace van, a Mahindra Jeeto and sharp-weapons.
A senior police officer informed that Sheikh Jamil was accused in murder and attempt to murder case. He planned the theft with allegiance of betel nuts businessmen. City police have handed over the accused to Mauda police for further investigations. Under the guidance of DCP, Detection, Sambhaji Kadam and ACP Ashwini Patti, the arrest was made by PI Jagwendra singh Rajput, API D. Bhedodkar, Gaddime, Shiurkar, PSI Mangala Mokashe and staff including S. Kadu, Shailesh Thawre, Anil Dubey, Rajesh Kshirsagar, Sham Kadu, Atul Dawande, Milind Narsanne, Firoz Sheikh and Shariff Sheikh.