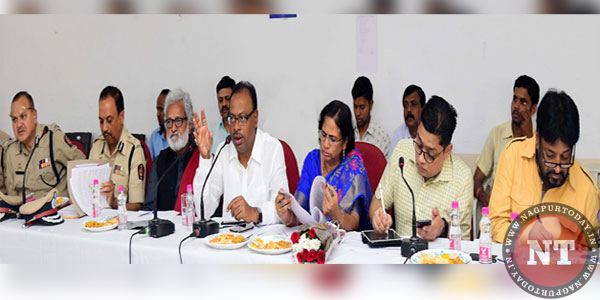 Nagpur: The Guardian Minister Chandrashekhar Bawankule on Friday took stock of preparations at Deekshabhoomi and Kamptee's Dragon Palace for 62nd Dhammachakra Pravartan Din to be celebrated on October 18. He directed the district administration to make all necessary arrangements so that lakhs of devotees visiting the two monuments are not put to inconvenience.
The review meeting was held at Dr Ambedkar College of Deekshabhoomi Smarak Samiti. The meeting was attended by Deekshabhoomi Smarak Samiti Secretary Sadanand Fulzele, Bhante Surai Sasai, Mayor Nanda Jichkar, MLCs Jogendra Kawade, Prakash Gajbhiye, MLA Dr Milind Mane, District Collector Ashwin Mudgal, Commissioner of Police Bhushankumar Upadhyay, Joint Police Commissioner Ravindra Kadam, Deekshabhoomi Smarak Samiti's Vilas Gajghate and others.
24 hours water:
Lakhs of followers of Dr Babasaheb Ambedkar will converge at historic Deekshabhoomi and Dragon Palace at Kamptee on the occasion of 62nd Dhammachakra Pravartan Din to be celebrated on Thursday (October 18). The District Administration put itself on top gear and placed all necessary arrangements in place for convenience of the visiting devotees. The Nagpur Municipal Corporation (NMC) on its part will set up a Control Room near the statue of Annabhau Sathe. All the concerned zonal officials and employees of NMC will be deployed at the Control Room for 24 hours to oversee the arrangements.
The District Collector Ashwin Mudgal said arrangement for 24 hour water supply will be made at the two places. Water Works Department is making arrangements to provide 24 hour drinking water and will be deploying water tankers. A number of temporary water connections will be provided at various places.
Toilets:
The NMC will be making arrangements of temporary toilets in ITI and Blind School premises. Around 1200 temporary toilets would be set up. Toilets will also be set up at Ambazari Lake premises. Adequate lighting arrangement will be made at these toilets. The toilet arrangements at Dragon Palace will be made at the planned places as have been done usually. Similarly, many bathrooms and urinals will be constructed.
Dustbins, containers, waste boxes are to be placed majority of the areas. Water will be made easily available for devotees using toilets, bathrooms and at other places. The eatery vendors, tea stalls have been asked to drop plastic plates, glasses and other garbage at specified places.
Lighting:
The lighting arrangements are being made by NMC and MSEDCL. Adequate lighting arrangements will be made at crowded places at Deekshabhoomi and Dragon Palace and at bus stops, and at other vantage places. Generators are to be installed to deal with emergency situations.
Security:
The Police Department has been directed to initiate steps to maintain law and order during Dhammachakra Pravartan Din celebrations at Deekshabhoomi and Dragon Palace. Parking lots should be fixed. Police bandobast should be adequate at Deekshabhoomi and at other vantage points with policemen dotting the place.
Similarly, various organisations are making arrangements to distribute free food, drinking water, health services etc during the Dhammachakra Pravartan Din celebrations.