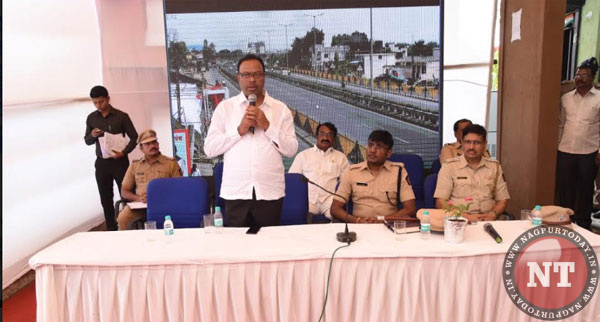 Nagpur: "For a single police official it is impossible to look after safety and security of 1000-1200 citizens. However, with the CCTV surveillance, a single police official can guard more than 10,000 citizens," said Guardian Minister Chandrashekar Bawankule on Thursday.
Bawankule was speaking at the first review meeting of newly started surveillance centre under Smart City project at DCP Zone 5 office in Jaripatka. While explaining the importance of digital technology, the Energy Minister further said, "We have seen many times where despite having a strong case police's effort go in vain due to lack of evidence. The CCTV surveillance will be contrary to all such problems. It is government's duty to protect citizens and their property. The motive of this programme is to protect citizens and also to convict the culprits."
60% of the Smart City work is already done and the remaining 40 will be accomplished in next 6 to 7 months, he mentioned and assured that he is planning to give funds if this technology (CCTV surveillance) can be implemented in smart phones so that police can supervise their surrounding anytime.
Zone 5 has installed total 488 CCTV cameras at 136 different points. A team of 4 police officials will supervise the CCTV surveillance 24×7.
While discussing the importance of technology and handling crime, Zone 5 DCP Harsh Poddar shared his personnel experience where they caught a female thief with the help of CCTV footage. The woman stolen his ring inside a hospital. "Earlier, we used to have inputs from our human sources. This used to be varying from person to person. However with the CCTVs in functioning we will have more acute access with information. Our aim is to protect women and children, also to protect society and streets with the use of modern technology."
"We have often seen cases where witnesses tend to change their statements in court. However, with the technology in operation, we could eliminate that factor," DCP Poddar said and also assured that the CCTVs will play key role in maintaining law and order situation in the city.
– Shubham Nagdeve