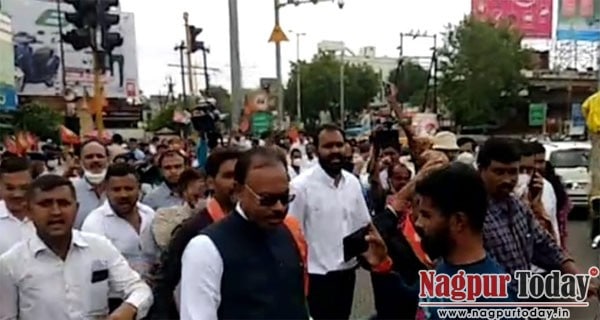 Nagpur: Bharatiya Janata Party (BJP) on Wednesday staged protests across Nagpur district demanding political reservation to Other Backward Classes (OBCs). Charging the MVA government of stabbing on the back, the party's State General Secretary Chandrashekhar Bawankule and hundreds of workers staged a rasta roko (road blockade). Cops detained Bawankule and others for the agitation.
Bawankule claimed that the OBCs were betrayed by the MVA Government. The MVA Government has been squabbling over the political reservation to the OBC community for the last six months. The Backward Classes Commission appointed to collect imperial data was not even funded by the coalition government, he charged. He further claimed that the state government has not effectively taken up the issue of OBC reservation in the Supreme Court.
BJP's District President Arvind Gajbhiye, State Vice President Sanjay Bhende, Ex-MLA Sudhakar Deshmukh, former MLC Anil Sole, Party's City President of OBC Aghadi Ramesh Chopra, Dharmapal Meshram, formerMayor Nanda Jichkar and others participated in the agitation.
In Nagpur City too, the party staged the agitation at various parts. At Manewada Square, MLC Pravin Datke, MLA Mohan Mate, Ex-MLA Sudhakar Kohle and others led the agitation. Mayor Dayashankar Tiwari, MLA Vikas Kumbhare, Archana Dehankar and others took part in the protest at Zenda Chowk. Ex-MLA Sudhakar Deshmukh, Ramesh Chopra, Anil Sole, Sandeep Joshi, Nanda Jichkar and others protested at Gittikhadan Chowk.Similarly, Ramdas Ambatkar, Avinash Thakre, Prabhakar Yeole, MLC Girish Vyas, Dr. Milind Mane, Bhojraj Dhumbe, MLA Krishna Khopde, Dr Sanjay Bhende, Ramesh Girde, Sajanya Avchat, Pramod Pendke and a number of party workers staged protest at different locations in the city.