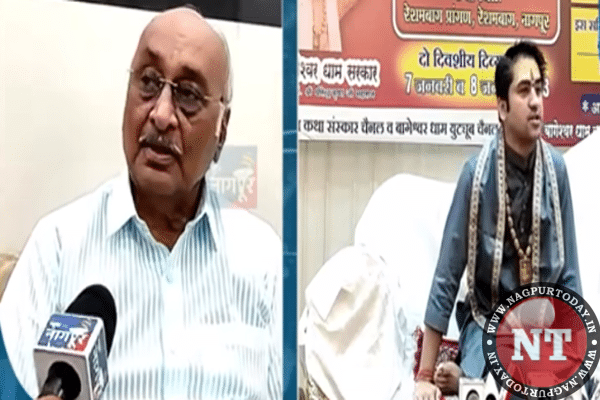 Nagpur: Citing no evidence of alleged superstitious activities in the videos, Nagpur Police have given clean chit to Dhirendra Shastri, popularly known as Bageshwar Dham Baba.
Notably, Shatri was accused of spreading superstition by Shyam Manav, the vice-president of the Andhashraddha Nirmulan Samiti during a satsang programme organized in Second Capital of the State between January 5 and 11. However, after scanning the video clips of the said event, cops have found no concrete evidence of superstitious activities at site, informed Commissioner of Police (CP) Amitesh Kumar.
Speaking to Nagpur Today, CP Kumar said, "We've scrutinized the entire footage of the programme and found no superstition activities that can be slapped with the Superstition Eradication Act 2013 or the Drugs and Cosmetics Act. Thus we've issued a clean chit to Bageshwar Dham Baba. And have conveyed the information to them," he said.
It is pertinent to mention that, Shyam Manav had challenged Bageshwar Baba, who claims to have the clairvoyance of knowing people's minds and telling information about a stranger.
When Bageshwar Baba aka Dhirendra Maharaj came to Nagpur, Shyam Manav gave him a challenge. Manav had said that if Baba proves his divine power, he will be given a reward of 30 lakhs. Shyam Manav also warned that a case may be registered against Bageshwar Baba under the Maharashtra's Anti-superstition and Black Magic Act.
Though Shastri initially accepted the challenge, he reportedly chickened out two days before and left Nagpur. Manav and his team then filed a police complaint against Bageshwar Baba under Maharashtra's anti-superstition law. After that, it is speculated that Baba's devotees may have sent threatening messages to Shyam Manav.
Manav's son receives threatening messages
It has been revealed that Shyam Manav's son received threatening messages on his mobile phone. One of the members of Manav's organisation, Harish Deshmukh, has informed the police about this. "You will be shot and killed by tomorrow afternoon, you should keep quiet," messages received on the activist's phone said.
Security of Manav increased after threats
Meanwhile, after messages and calls threatening to kill Shyam Manav, a complaint was duly lodged with the police. After that, the security arrangement outside Shyam Manav's house in Nagpur has been increased.
Earlier, 2 personnel of Maharashtra Special Prosecution Unit were deployed for the security of Shyam Manav. Now, two more gunmen and 3 police personnel have been included in it.