In reality, 'ICONS' are those who, by their works and outstanding personality, emerge as an example to the society and also become a source of inspiration. All live a life but life is fulfilled of only those who have an aim and strive hard to achieve that aim of life to touch peak of glory and success. The success and glory also touch the feet of such personalities who choose the perfect path and are untiringly active with true determination and supreme self-confidence. Such personalities remain away from bragging themselves but still impress and inspire the entire society by their social works. Nagpur Today caught up with one such  "ICON" of Nagpur , B C  Bhartia .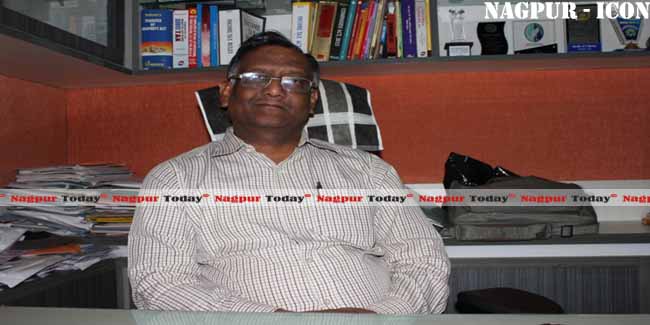 B C  Bhartia  as he is fondly known is born and brought up in Nagpur. He did his schooling from Bishop Cotton High School. While reminiscing his early school days, he said that his father sent them to school when the fees was as low and meager as Rs 24 per month, while many did not even wanted to spend that amount on education of their children. According to him, his father believed in one very basic and very vital policy. He claimed that Good Health and Good Education are your assets for life. Everything else is temporary. He said that this policy of his father ensured that they had the best food and the best education. B C Bhartiya has continued the legacy his father gave him and ensure that the same policy in his own home too. He has given the best Education to both his daughters Aparna and Swati.
He finished his B.Com followed by Chartered Accountancy and did his Articleship with N K P Salve.
He said that he had a big family of 8 brothers. Continuous changes in Government Policies during the Post-Independence Era caused his family to see many financial ups and downs. There was no steady business. He added that in those days Chartered Accountants had a lot of value in Arab countries like Dubai, Saudi Arabia etc. As soon as one finishes his Chartered Accountancy, he or she used to get Appointment Letters with very good pay packages from foreign countries. At the same time, he realized that since his family is big and going away to a foreign country may not be financially viable. Depending on the business of Chartered Accountancy was not going to take the family forward. Therefore he decided to start a business. He says that he started a business that did not require a lot of investment and had a low risk of losses. He added that he could not afford losses.
He then realized that he should get into a multi-diversity business. So he started various such business ventures that did not require much financial capital and low risk of losses.
According to him those days foundry was developing in Nagpur and picking up good business. So he explored and got involved in Steel Foundries. He started supplying Hard Coke, Coke, Iron Pipe Manufacturing, Cement Manufacturing, Packed Drinking Water Manufacturing, Foundry Chemical Manufacturing, Foundry Alloy Manufacturing, Foundry Carburized Manufacturing, Medical Oxygen Manufacturing, HDPE Bag Manufacturing, Mining of Lime Stone & Dolomite etc. He also started a Chain of Departmental Stores.
He said that multi-diverse manufacturing and other business ensured that even if one business fails or hits recession, other business will ensure sustenance of his business interests and his entire family.
He again sensed as to how can one take out money from his business to ensure security of family members and their future. So in order to ensure security of family members' future, he started small investments in purchase of residential flats and houses. According to him, this helped in strengthening the network and in making them eligible for more financing from banks to help them grow their business.
One of the Guru Mantra his father taught him which remains till date his own and his family's Mantra while doing business is to "Never do anything Illegal, Immoral or Unethical". He says this is my family code of conduct. That is one reason why we can and continue to give our names to all family business.
Above everything, he says apart from being a good businessman, he has to be a good son to his parents, a good husband and a good father to his children. He has two daughters Aparna and Swati. Aparna is a CA / CS and is married and presently in Singapore. His second daughter Swati is also a CA / CS is married off and is in Nagpur itself.
One very dynamic and inspiring policy is that we should give good human resources to the society for the children have to take the society forward. He added that one should be proud parents of daughters. They should help them develop like a tree and not like a climber or a creeper which is depending on the tree for sustenance. He says that he told them to get the best education and that they have direct competition with boys. He advised his girls that they should never hesitate to compete with them. Their being a girl should never be their weakness.
::: Samuel Gunashekharan