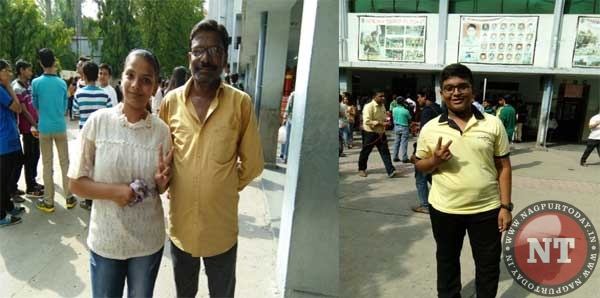 Nagpur: Every year, those who steal the limelight in the SSC exam results are mostly from humble financial background. They turn difficulties into opportunities and create success stories for others to follow. Somalwar High School Ramdaspeth's Khushi Suke is one such student, who scored 93.20% in the exams by overcoming all the hurdles.
Khushi's father Ravindra is an auto-rickshaw driver while her mother Sharda is a homemaker. But today they are proud parents. When Khushi, accompanied by her father, reached the school this afternoon to collect her result, the father-daughter duo were all smiling with confidence.
Talking to Nagpur Today, Khushi said she used to study three-four hours every day, and that she got a lot of assistance and guidance from her school teachers. She said she wanted to become an IAS Officer.
Accident victim Kaustubh scores 97%
In another inspiring story, Kaustubh Manohar Vaidya of Somalwar High School Ramdaspeth has scored 97.20% in his SSC exams despite suffering a major accident last year. Kaustubh was operated more than once and was advised complete bed rest for two months. When he joined the school, the school shifted his class to the ground floor and helped him focus on his studies.
Kaustubh didn't allow the pains of the accident to overpower him and studied hard to achieve the best result. Son of a government employee Manohar and homemaker Priti, Kaustubh wants to become a computer engineer.